18. Southwestern Veggie Hummus Wraps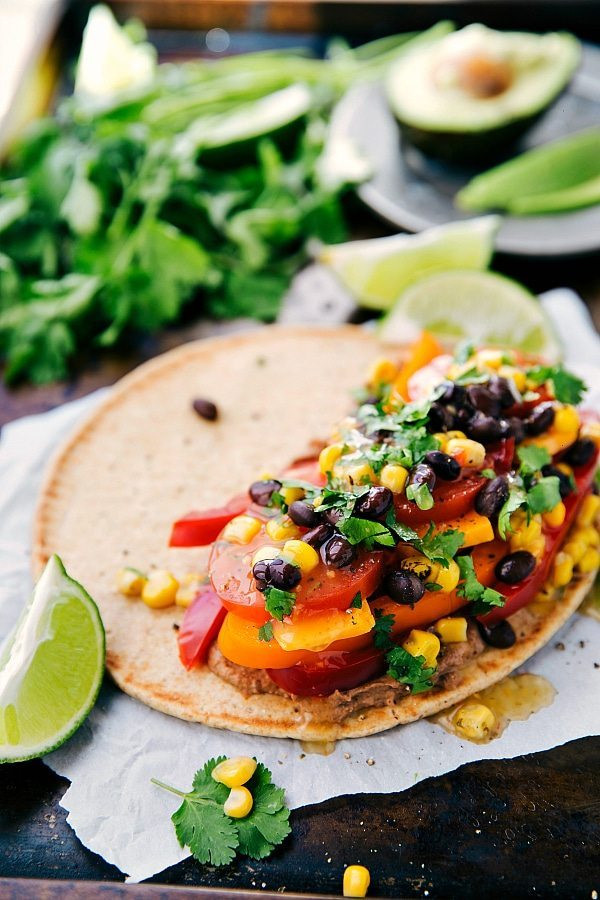 Ingredients:
1

can

plus an additional 1/2 cup Black Beans

1

package

BUSH'S Southwest Black Bean Hummus mix

or blend 1 can black beans with another prepared hummus

4

pitas or large tortilla wraps

1

large red pepper

1

large orange pepper

1/2

cup

canned corn

roasted corn is the best!

2

roma tomatoes

1

avocado

8

tablespoons

zesty Italian dressing

8

slices

sharp cheddar cheese

Optional: fresh lime juice

fresh cilantro

Salt and pepper
Instructions:
Prepare the hummus by combining 1 can (drained and rinsed) black beans with the southwest black bean hummus package in a blender or food processor.

Blend or pulse until smooth.

Generously spread 4 large tortillas or pita bread with the hummus.

Deseed and remove the stems from the peppers. Slice in thin slices.

Top the tortillas evenly with the sliced peppers. Evenly disperse the remaining 1/2 cup black beans and corn over the peppers.

Slice the tomatoes and avocado. Add to the tortillas along with the cheese slices.

Sprinkle salt and pepper over the tortillas and then add 2 tablespoons dressing to each tortilla.

If desired add some fresh lime and coarsely chopped cilantro.

Roll up and enjoy immediately.
Originally posted 2018-12-19 09:10:22.