19. Chicken Fajita Meal Prep Lunch Bowls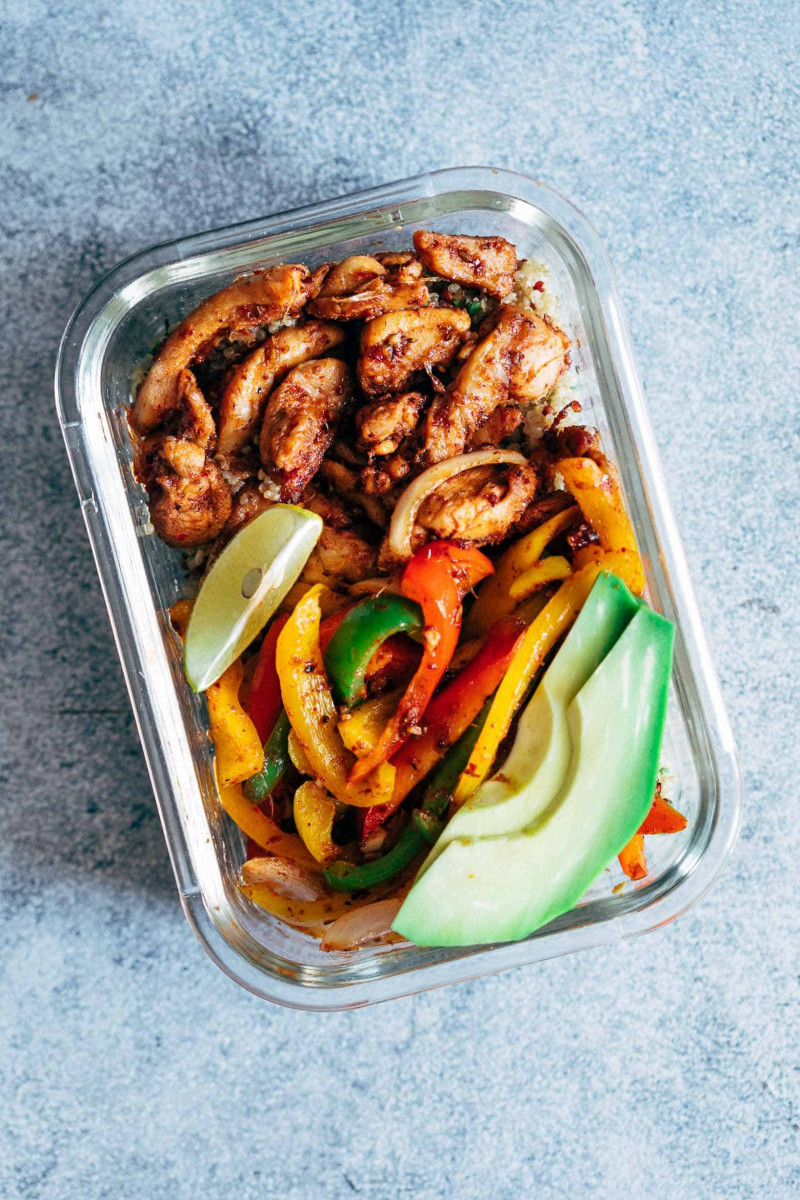 Ingredients:
For the Fajita Seasaoning:
1 tablespoon Chilli Powder
3/4 teaspoon Cayenne Pepper
1 teaspoon Cumin Powder
1 teaspoon ground Black Pepper
1 teaspoon Salt
For the Quinoa:
2 cups Quinoa
1/2 teaspoon Salt
1/4 cup Cilantro
2 teaspoons Lime Juice
For the Chicken and Peppers:
2 tablespoon Olive Oil
1 teaspoon minced Garlic
8 boneless, skinless Chicken Thighs (cut into thin strips)
2 Red Bell Peppers, deseeded and sliced
2 Yellow Bell Peppers, deseeded and sliced
1 Green Bell Pepper, deseeded and sliced
1 large Onion, sliced
1 teaspoon Salt
Other Toppings:
Diced Avocados
Lime Wedges
Guacamole
Instructions:
Chicken Fajita:
To make the fajita seasoning, mix together chilli powder, cayenne pepper, cumin powder, ground pepper and salt in a bowl and set aside.
Start by adding half the fajita seasoning and 1 teaspoon salt to the chicken. Set aside for 10 minutes.
Heat olive oil in another pan and add garlic. Add the chicken to the pan and cook for 10-12 minutes till the chicken is cooked through.
Remove the chicken on a plate, and add onions and bell peppers to the pan. Add the remaining fajita seasoning and stir fry for 3-4 minutes on high heat.
Cilantro Lime Quinoa:
Meanwhile start cooking the quinoa. Start by washing it a few times in cold water. Add quinoa, four cups water and 1/2 teaspoon salt to a saucepan and bring it to a boil. Simmer and cook for 15-20 minutes till the quinoa is cooked through and soft and fluffy. Once the quinoa is cooked through, add lime juice and cilantro and mix.
Assembling the Meal Prep Bowls:
To assemble the chicken fajita meal prep lunch bowls, divide quinoa evenly into the bowls. Divide the chicken and peppers on top. Let them cool slightly before placing the lids on top and refrigerating.
To serve, remove the lid on the containers and heat them in the microwave. Top with your favourite topping and enjoy!
Recipe Notes
Please remove the lid of the boxes before microwaving
Avocados and Guacamole work great with this recipe but I recommend buying them separately and using them fresh
Originally posted 2018-12-19 09:10:22.