25. Shrimp Fried Rice Meal Prep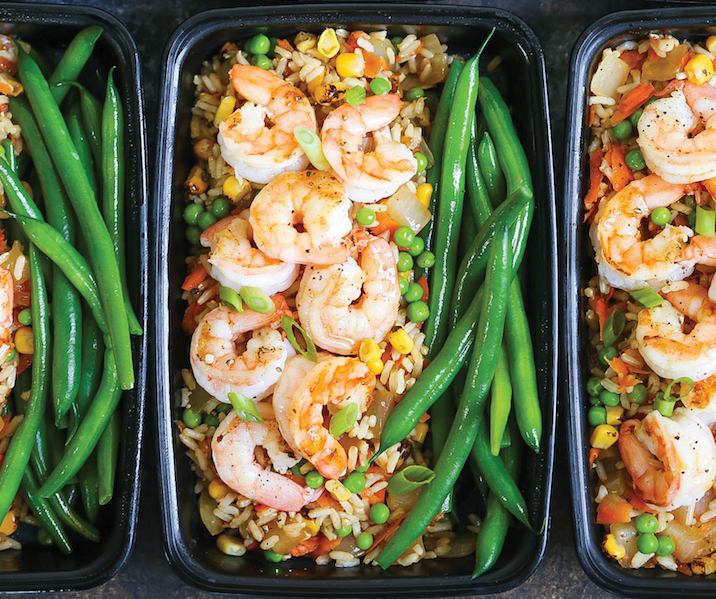 Ingredients:
1 1/2 cups brown rice
1 pound green beans, trimmed
3 tablespoons reduced sodium soy sauce
1 tablespoon sesame oil
1 tablespoon freshly grated ginger
1/4 teaspoon white pepper, optional
2 tablespoons olive oil
1 1/2 pounds medium shrimp, peeled and deveined
Kosher salt and freshly ground black pepper, to taste
2 cloves garlic, minced
1 onion, diced
2 carrots, peeled and grated
1/2 cup corn, frozen, canned or roasted
1/2 cup frozen peas
2 green onions, thinly sliced
Instructions:
In a large saucepan of 3 cups water, cook rice according to package instructions; set aside.
In a large pot of boiling salted water, blanch green beans until bright green in color, about 2 minutes. Drain well and cool in a bowl of ice water. Drain well and set aside.
In a small bowl, whisk together soy sauce, sesame oil, ginger and white pepper, if using; set aside.
Heat olive oil in a large skillet or wok over medium high heat. Add shrimp, and cook, stirring occasionally, until pink, about 2-3 minutes; season with salt and pepper, to taste; set aside.
Add garlic and onion to the skillet, and cook, stirring often, until onions have become translucent, about 3-4 minutes.
Stir in carrots, corn and peas. Cook, stirring constantly, until vegetables are tender, about 3-4 minutes.
Stir in rice, green onions and soy sauce mixture. Cook, stirring constantly, until heated through, about 2 minutes. Stir in shrimp.
Place rice mixture and green beans into meal prep containers.
Originally posted 2018-12-19 09:10:22.