5. Butternut Squash & Sage Spaghetti with Zucchini Noodles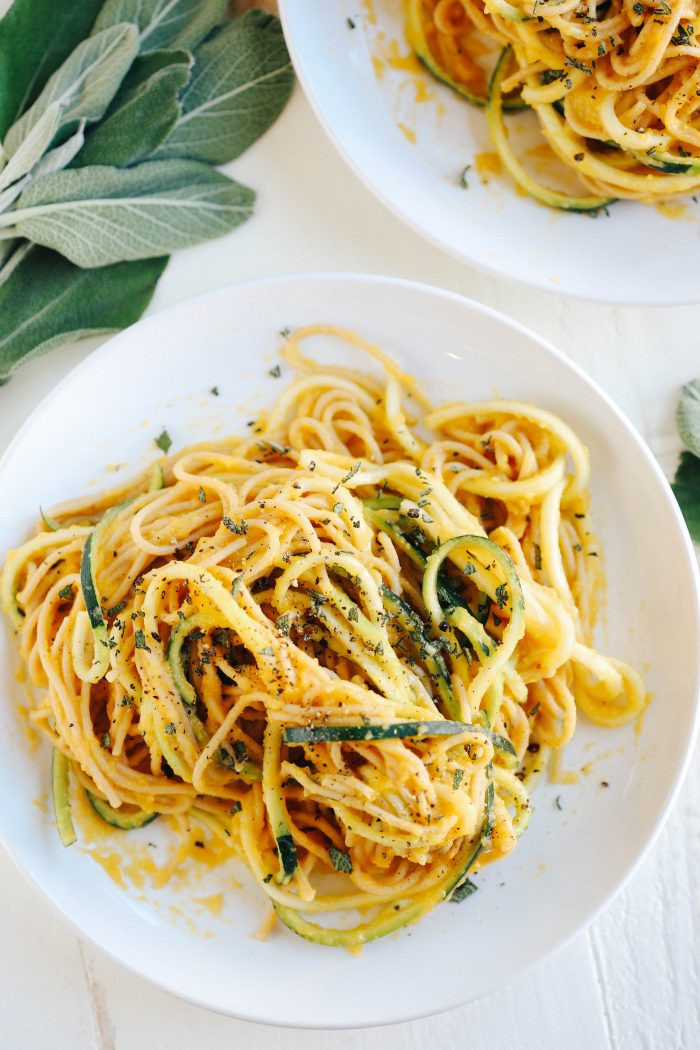 Ingredients:
2 Tbsp olive oil
1 medium onion, chopped into large chunks
3 cloves garlic, minced
2 lb. butternut squash, peeled and cut into cubes (about 3 cups)
¼ tsp. nutmeg
Salt and pepper, to taste
3 sage leaves, minced
2 cups vegetable broth
8 oz. Barilla whole wheat spaghetti
2 medium zucchini, spiralized
Instructions:
In a large skillet over medium heat, drizzle olive oil and sauté onion and garlic, until translucent and fragrant, about 3 minutes. Add squash, nutmeg, salt/pepper and cover, stirring occasionally, for about 8 minutes. Add sage and cook an additional minute.
Add vegetable broth and bring to a boil. Reduce heat and allow squash to simmer, uncovered, for about 20 minutes until the squash is soft and the broth is reduced by half.
Meanwhile, bring a large pot of salted water to a boil and cook pasta according to package directions. Drain and set aside.
Once the squash mixture is ready and has cooled slightly, add mixture to your food processor or blender and purée until smooth. Feel free to add extra vegetable broth or water as-needed for a thinner sauce.
Toss the spaghetti, zucchini noodles and sauce all together in the skillet you were just using and cook over medium heat for about 2 minutes, until everything is combined. Season with additional salt/pepper and sage, serve and enjoy!
Nutritional Information
Serving Size: ¼th of the recipe • Calories: 322 • Fat: 8 g • Saturated Fat: 1.1 g • Carbs: 54 g • Fiber: 9.5 g • Protein: 10.6 g • Sugar: 8.7 g • WW Freestyle Points: 5
Originally posted 2018-12-19 09:10:22.