24. Vegan Taco Stuffed Sweet Potatoes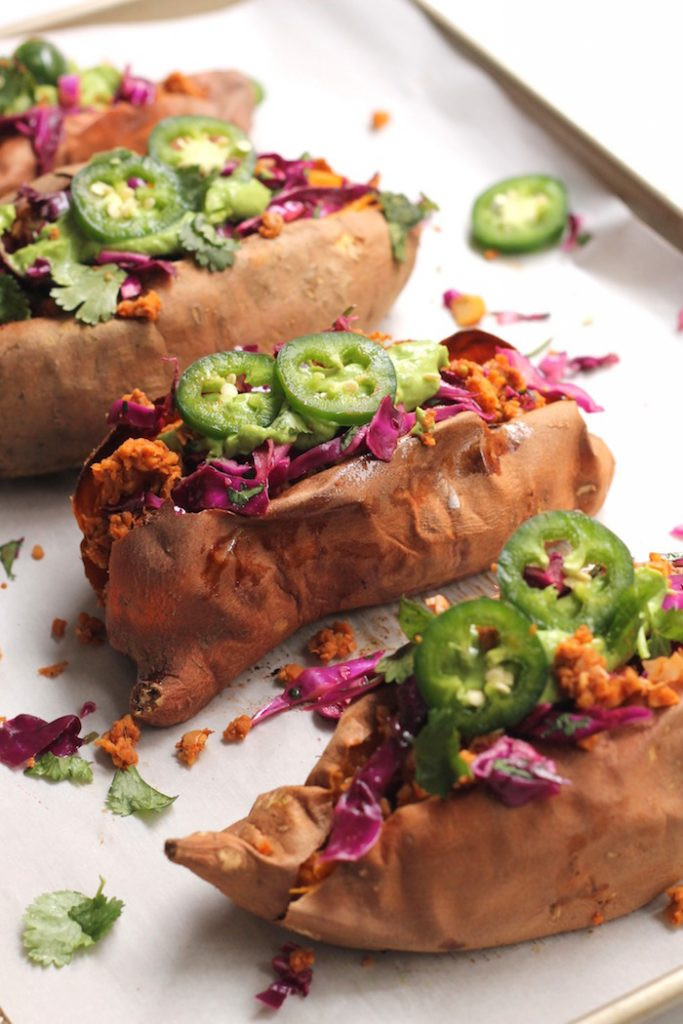 Ingredients:
For the sweet potatoes:
4-6 medium sweet potatoes, baked (alternatively, you can use taco shells of choice)
For the cilantro lime slaw:
1 small head red cabbage, shredded (about 5 cups)
2 tbsp lime juice
½ tsp salt (or to taste)
1 tsp pure maple syrup (can sub honey)
½ cup cilantro, chopped
For the cilantro lime crema:
2 medium ripe avocados
½ cup cilantro, packed
3 tbsp lime juice
3 tbsp water (more if needed to blend)
¼ tsp garlic power
¼ tsp salt
For the taco filling (this makes a lot, feel free to cut in half)
2-15oz cans chickpeas, drained and rinsed
Heaping ½ cup pecans (or walnuts)
2 tbsp chili powder
4 tsp cumin
1 tsp garlic powder
½ tsp onion powder
1 tsp oregano
½ tsp smoked paprika
¼ tsp cayenne pepper
¾ tsp sea salt
Freshly ground black pepper, to taste
½ cup water
Additional toppings:
sliced jalapeños, salsa, hot sauce
Instructions:
Preheat oven to 400F. Pierce sweet potatoes several times with a fork. Place on lined baking sheet and bake for about an hour or longer, until fork tender.
Meanwhile, place slaw ingredients in a medium bowl, stirring to combine. Season to taste with salt. Refrigerate until ready to use.
Place all the cream ingredients in a blender (I used my nutribullet) and blend until completely smooth and creamy. Set aside.
Place one can of chickpeas and half the pecans in a large food processor. Pulse for about 5-10 seconds or until finely chopped (not mushy, but well combined). It should look "meaty." Dump into a bowl. Repeat with remaining chickpeas and nuts. Add spices and stir until combined.
Heat a large skillet sprayed with cooking spray over medium heat. Once hot, add chickpea mixture and water to moisten. Cook for a few minutes, or until heated through.
Assemble slicing sweet potatoes length-wise and layering taco meat, slaw, crema, and toppings. Serve warm!
Originally posted 2018-12-19 09:10:22.