15. Cauliflower Pizza Crust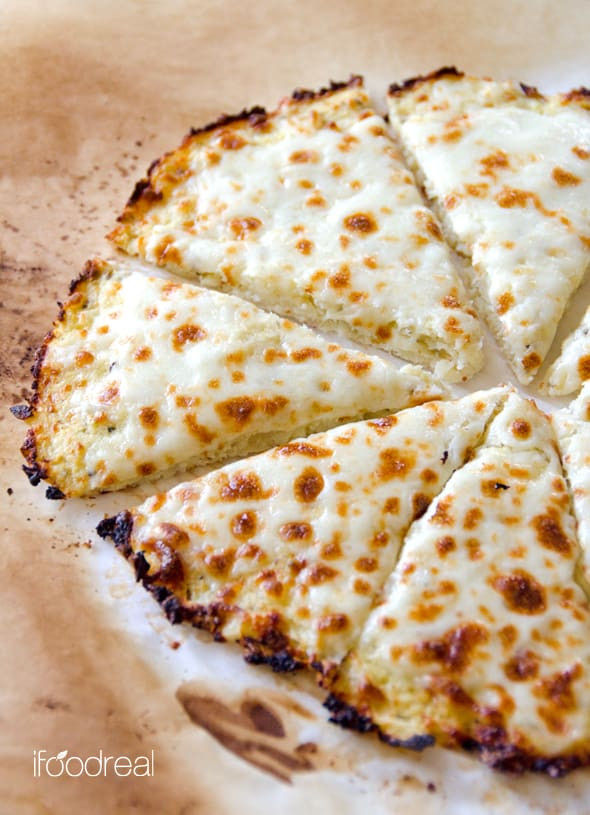 1 medium head of cauliflower (6″ – 7″ wide or 2.5-3 lbs) or 5-6 cups of store bought cauliflower rice
1 egg, large
1 tsp Italian seasoning (dried oregano or basil)
1/8 tsp salt
1/4 tsp ground black pepper
1/2 cup Parmesan or Mozzarella cheese, grated/shredded
Cooking spray (I use Misto)*
Instructions
Preheat oven to 375 degrees F and line baking sheet with unbleached parchment paper or silicone mat.
Rinse cauliflower, remove the outer leaves, separate into florets and chop into smaller pieces. Process in a food processor in 2 batches, until "rice" texture forms (skip if using store-bought "rice"). Transfer cauliflower rice on a prepared baking sheet and bake for 15 mins.
Remove cooked cauliflower rice from the oven, transfer to a bowl lined with a double/triple layered cheesecloth or linen towel, and let cool for 5 minutes. Then squeeze the liquid out of the ball (cauliflower inside the cheesecloth) as hard as you can. Be patient and do this a few times until barely any liquid comes out. Muscle work.:)
Increase oven temperature to 450 degrees F. In a medium mixing bowl whisk the egg with dried herbs, salt and pepper for 10 seconds. Add cheese and squeezed cauliflower; mix very well with spatula until combined.
Line same baking sheet with new parchment paper or silicone mat (just make sure to scrape off any bits of cauliflower) and spray with cooking spray. Transfer cauliflower pizza dough in the middle and flatten with your hands until thin pizza crust forms. Make it thicker that in my video, I made it a bit too thin.
Bake for 20 minutes, carefully flip with spatula and bake for a few more minutes.
Top cauliflower pizza base with your favourite toppings and bake again until cheese on top turns golden brown.
Slice and enjoy.
Store: Refrigerate covered for up to 2 days.
Freeze: Tightly wrapped in plastic for 1 month.
Notes
You could cook cauliflower rice in a microwave (I just don't have one) adjusting time according to your microwave's abilities (they all differ).
Originally posted 2019-01-03 02:48:47.