Prep your lunches for the week with these turkey spinach and cheese pinwheels! No more overpriced snacks and lunches!!!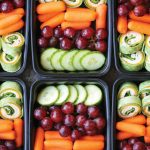 Ingredients
1 slice cheddar cheese
2 ounces thinly sliced turkey breast
1/2 cup baby spinach
1 (8-inch) spinach tortilla
6 baby carrots
1/4 cup grapes
5 cucumber slices
Instructions
Place cheese, turkey and spinach in center of tortilla.
Bring the bottom edge of the tortilla tightly over the spinach, folding in the sides.
Visit Turkey Spinach Pinwheels Meal Prep for full instructions