4. Quick And Easy Veggie Chili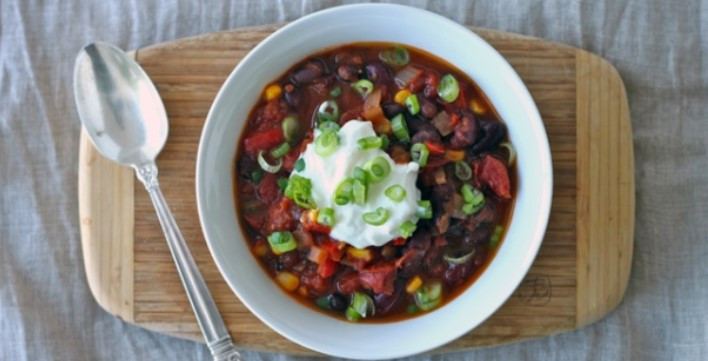 cook time
: 
less than 1 hour
Ingredients
3 tablespoons olive oil

1 onion, diced

2 red bell peppers, cored and diced

4 cloves garlic, minced

1 1/2 teaspoons cumin

1/4 teaspoon cayenne pepper

1 tablespoon chili powder

Salt

Freshly ground black pepper

1 can (14.5 ounces) kidney beans, rinsed and drained

1 can (14.5 ounces) black beans, rinsed and drained

3 cans (15 ounces each) diced tomatoes

1 cup frozen corn
Instructions
In a Dutch oven or large stock pot, heat oil over medium heat. Add onions, peppers, garlic, cumin, cayenne, and chili powder, and season with salt and pepper. Stir together and cook until soft, 3 to 4 minutes.
Mix in beans, tomatoes, and corn. Bring mixture to a boil, then lower heat and simmer for 30 minutes, stirring occasionally. Taste and season with additional salt and pepper, if necessary. Served with desired toppings. Leftovers will keep in the fridge for about a week or in the freezer for a couple months.
Originally posted 2019-01-03 02:48:47.