17. Slow Cooker Quinoa Chicken Chili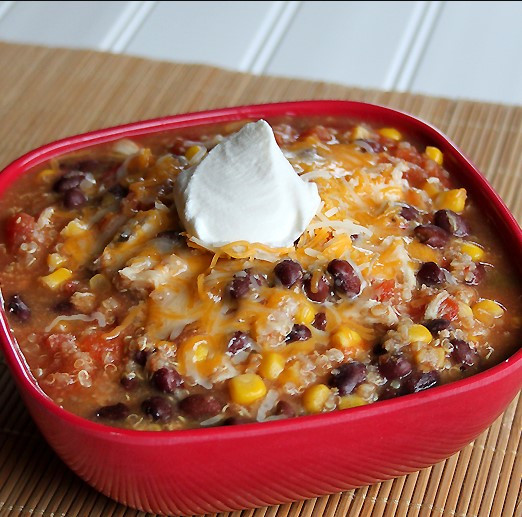 Ingredients
1 cup of quinoa, rinsed
One (1) 28 oz can of diced tomatoes (you could use crushed)
One (1) 14 oz can diced tomatoes with green chilies (Rotel)
Two (2) 16 oz cans of black beans, rinsed, drained
One (1) 15 oz can of corn, drained
3 Cups chicken stock
2 large chicken breasts, frozen or thawed (cook longer if frozen)
1 tsp garlic powder
2 tsp cumin
1 tsp crushed red pepper
2 tsp chili powder
This has a nice little kick to it, but I didn't think it was too spicy. If you're nervous about spice, reduce the red pepper and the chili powder by half.
Instructions
Toss everything into slow cooker and cook for 6-8 hours on low or 4-7 hours on high. I added frozen chicken breasts to mine and cooked on high for about six hours. As long as the chicken is cooked – it's done!
Remove chicken and shred it with two forks. Return to slow cooker.
Top with cheese, sour cream, avocados – whatever sounds good to you! I'm thinking the next day it would probably thicken up enough to eat in a whole wheat tortilla.
Originally posted 2019-01-03 02:48:47.