5. Skinny Broccoli Cheddar Soup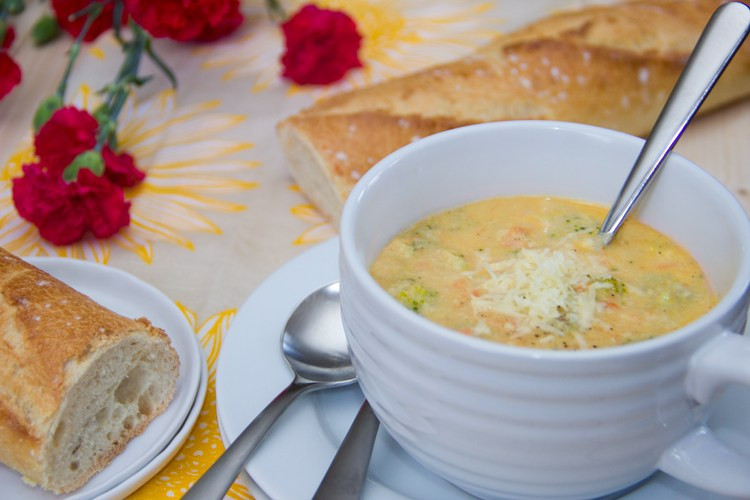 Yield: 6 servings
Prep: 20 minutes
Cook: 20 minutes
Total Time: 40 minutes
Ingredients
2 tablespoons olive oil
1 medium onion, roughly chopped
1 head cauliflower, roughly chopped
2 cups organic 1 percent milk
2 pounds broccoli, stalks removed and florets chopped into bite-sized pieces
1 medium carrot, grated
1½ cups organic vegetable broth
1 tablespoon organic Dijon mustard
1 tablespoon organic honey
1½ teaspoons paprika
3 cups organic sharp cheddar cheese, grated
Salt and freshly ground black pepper
Instructions
Heat ½ tablespoon of olive oil in a large saucepan over medium-high heat. Add the chopped onion and cook until it's softened about 3-5 minutes. Add the cauliflower and cook until softened, about 7 minutes more. Add the milk and season with salt and pepper.
Use an immersion hand blender to puree the mixture until it's smooth and creamy (or transfer mixture to a food processor to purée).
Heat 1½ tablespoons of olive oil in a large stock pot or dutch oven over medium heat. Add the broccoli and shredded carrots and season with salt and pepper. Cook until veggies are softened, about 5 – 7 minutes. Add the vegetable broth and bring to a boil, then adjust the heat to a light simmer. Stir in the dijon, honey, and paprika. Turn off the heat.
Carefully stir in the cauliflower purée and the shredded cheddar. Season to taste with salt and pepper, and serve.
Originally posted 2019-01-03 02:48:47.