8. Spinach Tortellini Soup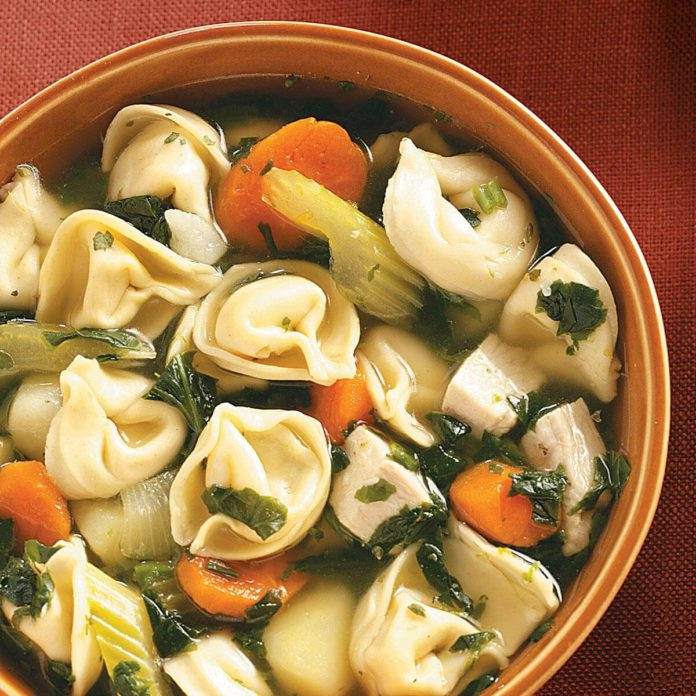 Ingredients
3 small red potatoes, peeled and cubed
2 medium carrots, sliced
1 celery rib, chopped
1 small onion, chopped
2 tablespoons plus 1-1/2 teaspoons chicken bouillon granules
2 quarts water
3 cups cubed cooked chicken
1 package (10 ounces) frozen chopped spinach, thawed and squeezed dry
1 teaspoon dried parsley flakes
1/2 teaspoon garlic powder
1/2 teaspoon dried oregano
1/2 teaspoon pepper
1/4 teaspoon salt
2 packages (9 ounces each) refrigerated cheese tortellini
Instructions
In a Dutch oven, combine the potatoes, carrots, celery, onion, bouillon and water. Bring to a boil. Reduce heat; cover and simmer for 10 minutes.
Stir in the chicken, spinach, parsley, garlic powder, oregano and pepper and salt; return to a boil. Add tortellini; cook, uncovered, for 7-9 minutes or until tortellini is tender.
Nutrition Information
1-1/2 cups: 271 calories, 8g fat (3g saturated fat), 60mg cholesterol, 974mg sodium, 29g carbohydrate (3g sugars, 2g fiber), 20g protein.
Originally posted 2019-01-03 02:48:47.