18. Skinny Shrimp Alfredo Pasta Bake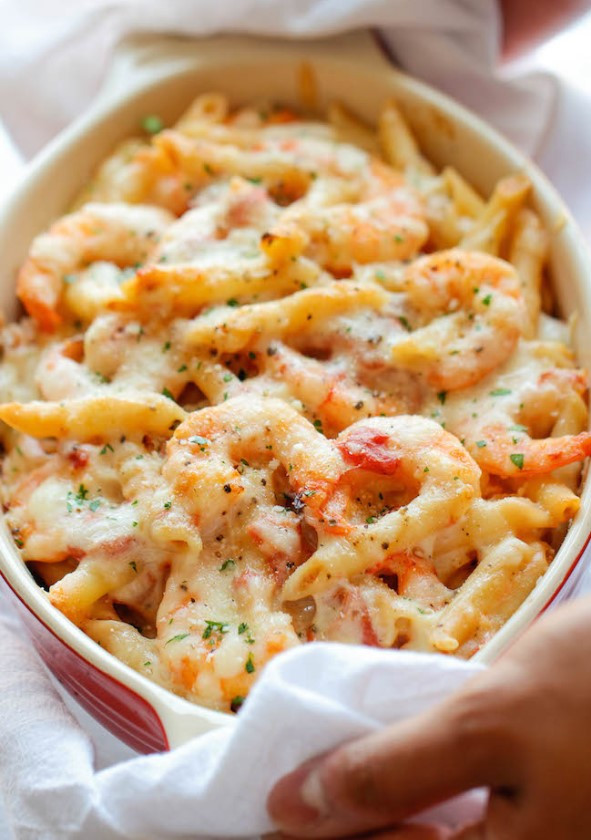 Ingredients
1 pound medium shrimp, peeled and deveined
2 tablespoons olive oil, divided
Kosher salt and freshly ground black pepper, to taste
8 ounces whole wheat penne pasta
1 (14.5-ounce) can petite diced tomatoes, drained
1/2 cup reduced fat mozzarella cheese
1/2 teaspoon crushed red pepper flakes, optional
2 tablespoons freshly grated Parmesan
2 tablespoons chopped fresh parsley leaves
For the Alfredo Sauce
2 tablespoons unsalted butter
4 cloves garlic, minced
1 tablespoon all-purpose flour
1 (6-ounce) can 2{e60ce88da641899e69f391bf16a42888542d229f3489f13ac1244d498781d7ad} evaporated milk
1 ounce light cream cheese
1/4 cup chicken broth, or more, to taste
Kosher salt and freshly ground black pepper, to taste
Instructions
To make the alfredo sauce, melt butter in a large skillet over medium high heat. Add garlic and cook, stirring frequently, until fragrant, about 1-2 minutes.
Whisk in flour until lightly browned, about 1 minute. Gradually whisk in milk, and cook, whisking constantly, until slightly thickened, about 1-2 minutes. Stir in cream cheese and chicken broth until smooth, about 1 minute; season with salt and pepper, to taste. Add more chicken broth as needed until desired consistency is reached.
Preheat oven to 400 degrees F. Lightly oil a baking sheet or coat with nonstick spray.
Place shrimp onto the prepared baking sheet. Add 1 tablespoon olive oil, salt and pepper, to taste, and gently toss to combine. Place into oven and roast just until pink, firm and cooked through, about 6-8 minutes. Remove from oven and set aside.
In a large pot of boiling salted water, cook pasta according to package instructions; drain well.
Reduce oven temperature to 350 degrees F. Lightly coat an 8×8 baking dish with nonstick spray.
In a large bowl, combine shrimp, pasta, tomatoes, mozzarella cheese, red pepper flakes and alfredo sauce. Add pasta mixture to prepared baking dish and top with Parmesan.
Place into oven and bake until golden brown and cheese has melted, about 10 minutes.
Serve immediately, garnished with parsley, if desired.
Originally posted 2019-01-03 02:48:47.