8. Seafood Gumbo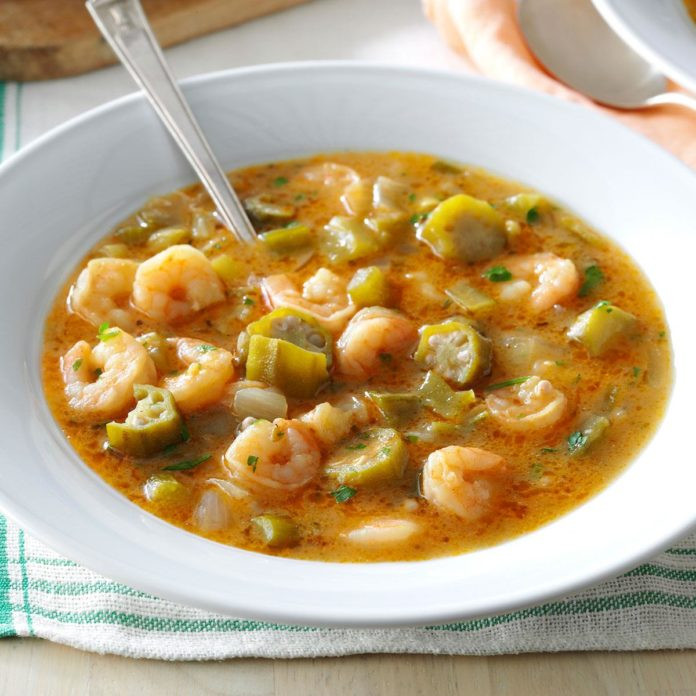 Ingredients:
1 cup all-purpose flour
1 cup canola oil
4 cups chopped onion
2 cups chopped celery
2 cups chopped green pepper
1 cup sliced green onion and tops
4 cups chicken broth
8 cups water
4 cups sliced okra
2 tablespoons paprika
2 tablespoons salt
2 teaspoons oregano
1 teaspoon ground black pepper
6 cups small shrimp, rinsed and drained, or seafood of your choice
1 cup minced fresh parsley
2 tablespoons Cajun seasoning
Instructions:
In a heavy Dutch oven, combine flour and oil until smooth. Cook over medium-high heat for 5 minutes, stirring constantly. Reduce heat to medium. Cook and stir about 10 minutes more, or until mixture is reddish brown.
Add the onion, celery, green pepper and green onions; cook and stir for 5 minutes. Add the chicken broth, water, okra, paprika, salt, oregano and pepper. Bring to boil; reduce heat and simmer, covered, for 10 minutes.
Add shrimp and parsley. Simmer, uncovered, about 5 minutes more or until seafood is done. Remove from heat; stir in Cajun seasoning.
Originally posted 2019-03-12 14:01:44.