5. The Best Seafood Gumbo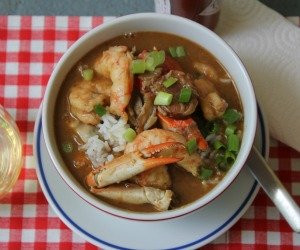 Ingredients:
Seafood Stock
2 large onion chopped into large pieces
6 cloves garlic
6 stalks celery
2 teaspoons paprika
1 tablespoon salt
1 (6-8 inch) fresh rosemary sprig or 1 tablespoon dried
12 bay leaves
9 quarts water
6 blue crabs
shrimp heads and tail peelings
Best Seafood Gumbo Recipe
8 quarts seafood stock
5 pounds medium shrimp with head on
1 pound andouille or lean smoked link sausage sliced into rounds
3 cups vegetable oil (corn oil is best)
4 cups all purpose flour
2 cups onion chopped
1-1/2 cup chopped red bell peppers
1 cup chopped celery
1 jalapeno pepper, finely chopped. Don't use the seeds.
5 garlic cloves, minced
1 teaspoon salt
1 teaspoon black pepper
1/4 teaspoon red pepper
2 teaspoon smoked paprika
2 teaspoon file' powder
2 teaspoon chili powder
1-1/2 teaspoon ground black pepper
1/2 teaspoon dried thyme
1/2 teaspoon cayenne pepper
1 teaspoon dried oregano
1/2 teaspoon red pepper flakes
2 tablespoon Tabasco sauce
1 pound crab claw meat
2 pints oysters shucked
Instructions:
To Make Seafood Stock:
Peel shrimp reserving heads and shells for stock. Place peeled tail meat covered in refrigerator. In a large stock pot (14 quart size) add all the above ingredients, bring to a boil and simmer for 1 hour. Strain and reserve stock. You will need 7-8 quarts of of finished stock. Reserve crabs for gumbo.
If you cannot get head on shrimp, use fish carcasses. Most seafood markets will give them to you at no charge and makes great stock.
To Make Best Seafood Gumbo:
To make the roux place the flour and oil in a large cast iron pot. Whisk to blend.Stirring constantly, bring to the color of milk chocolate. This will take 45 minutes to an hour.
When roux is the right dark color add onions, peppers and garlic stirring well. Cook for 6 minutes. You will need a pot of at least 14 quarts for this recipe. Add warmed stock to the roux and vegetable mixture one ladle at a time stirring well before adding the next ladle. Continue adding stock one ladle at at time and stirring well between ladles until all is used. This technique takes a little more time but ensures a smooth velvety gumbo. Adding cold stock all at once to the hot roux mixture can cause separation and greatly lessens the gumbo appeal.
Cook this for 30 minutes then add cooked crabs from the stock and everything else EXCEPT the seafood. Continue cooking on low heat for 1 hour stirring at 10 minute intervals. Taste and sample for salt and heat level. If you like more salt add at this time. If you like more spicy heat add more chopped jalapeno or cayenne pepper now. Cook 5 minutes more.
Add shrimp, crab claw meat, oysters with liquor and cook for 12 minutes. Remove from heat, cover and let stand 15 minutes.
Serve with white or brown rice, toasted french bread and a fresh garden salad.
This gumbo will make a delicious and memorable meal. Reminds me of New Orleans.
Will serve 12 to 15 hungry gumbo lovers.
Originally posted 2019-03-12 14:01:44.