3. Savannah Seafood Gumbo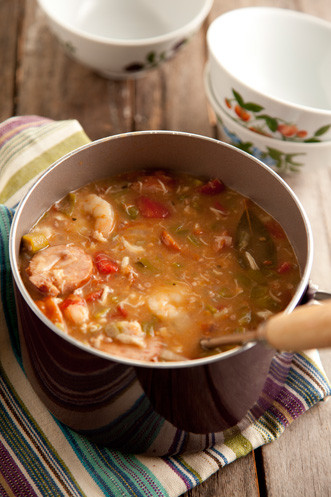 Ingredients:
4 cups sliced Cajun-style fresh link sausage
3 cups scallops
1 1/2 lbs fresh peeled shrimp
1/2 lb crabmeat
2 cups oysters and liquor
2 cups diced tomatoes
4 cups fresh or frozen sliced okra
1/3 cup dried parsley
1 (14 1/2 oz) can diced tomatoes seasoned with garlic, basil, and oregano
2 tablespoons or Worcestershire sauce soy sauce
2 teaspoons Paula Deen's House Seasoning
1/2 teaspoon cayenne pepper
1 teaspoon Paula Deen Lemon Pepper Seasoning
1 teaspoon dried basil
1 1/2 teaspoon dried thyme
1 cup chopped green bell pepper
2 bay leaves
1 tablespoon chicken base
4 cups chicken broth
3 cups water
3 large cloves minced garlic
1 cup diced celery
2 cup chopped onion
6 tablespoon all purpose flour
1/4 cup oil
file powder
Instructions:
In a large pot combine oil and flour. Cook over medium heat stirring constantly until the roux has browned to a light chocolate color. Add onion, pepper, celery and garlic. Sauté for 2 to 3 minutes, stirring constantly. Slowly add chicken broth and chicken base, stirring as you go. Add water, bay leaves, thyme, basil, parsley, lemon pepper, cayenne pepper, House Seasoning, soy sauce and tomatoes. Cut sausage into 1/2-inch pieces. Add to pot along with okra. Cover pot and simmer for 1 to 1 1/2 hours, stirring occasionally. Add oysters, crabmeat, shrimp and scallops. Simmer for an additional 15 minutes. Serve over hot buttered rice. Sprinkle with file powder on top of bowl and stir in.
Originally posted 2019-03-12 14:01:44.