11. Emeril's Classic Seafood Gumbo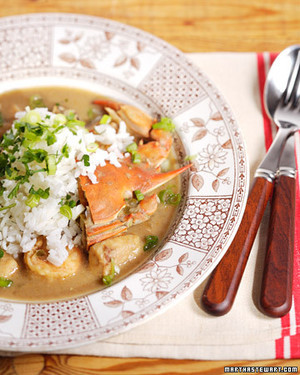 Ingredients:
3/4 cup vegetable oil
1 cup all-purpose flour
1 1/2 cups finely chopped onions
3/4 cup finely chopped green bell peppers
3/4 cup finely chopped celery
2 tablespoons finely chopped garlic
1 bottle (12 ounces) amber beer
6 cups Shrimp Stock, or low-sodium store-bought chicken broth
1/4 teaspoon dried thyme
2 bay leaves
1/2 pound gumbo crabs or uncooked or frozen blue crabs, defrosted (about 2)
2 teaspoon Worcestershire sauce
1 tablespoon coarse salt
1/2 teaspoon cayenne pepper
1 pound medium shrimp, peeled and deveined
1 pound white fish fillets, such as catfish, grouper, snapper, or sole
1 tablespoon Emeril's Original Essence
2 cups shucked oysters with their liquor
1/4 cup chopped fresh flat-leaf parsley
1/2 cup chopped tender scallion tops
File powder, for garnish
Cooked white rice, for serving
Instructions:
Place an 8-quart stockpot over medium heat; add oil. When oil is hot, and add flour. Using a wooden spoon, stir oil and flour together to form a roux, and cook until it becomes the color of milk chocolate, 20 to 25 minutes. Add onions, bell peppers, and celery; stir until well combined, about 5 minutes. Add garlic, cook for 30 seconds. Add beer and shrimp stock; season with thyme, bay leaves, crabs, Worcestershire, salt, and cayenne. Bring gumbo to a boil, and immediately reduce heat to a simmer. Let gumbo cook, simmering, about 1 hour, skimming surface occasionally.

Season shrimp and fish fillets with Emeril's Essence. Add to gumbo and stir to combine; cook for 2 minutes. Add oysters, and cook, stirring often, about 5 minutes.

Serve gumbo garnished with parsley, scallion tops, and file powder in shallow bowls over white rice.
Originally posted 2019-03-12 14:01:44.