12. Seafood Gumbo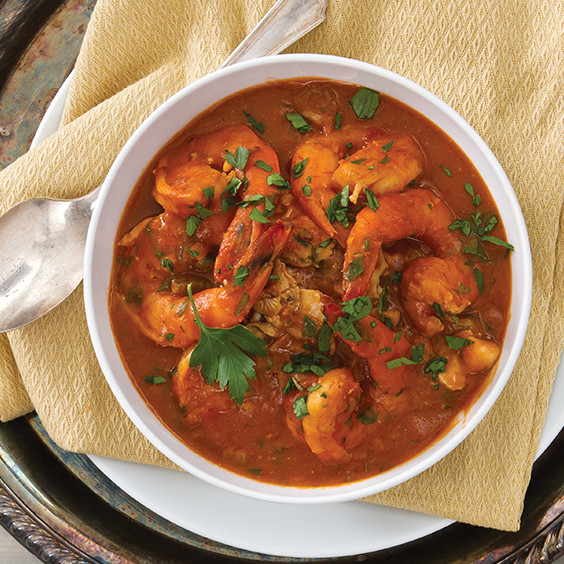 Ingredients:
1/2 cup plus 2 tablespoons unsalted butter, divided
1/3 cup all-purpose flour
¼ cup chopped sweet onion
¼ cup chopped celery
1 teaspoon crushed red pepper
2 cups canned crushed tomatoes
2 teaspoons kosher salt, divided
1 cup seafood stock
2 teaspoons liquid crab boil
2 teaspoons filé powder
2 cloves garlic, minced
1 pound large fresh shrimp, peeled and deveined
1 (8-ounce) container shucked oysters, drained
1 cup dry white wine
Garnish: chopped fresh parsley
Instructions:
In a large Dutch oven over medium-high heat, melt ¼ cup butter. Add flour, and whisk vigorously until combined. Cook, stirring frequently, until a light brown roux forms, about 10 minutes. Remove from heat, and set aside.
In a large skillet, melt ¼ cup butter over medium high heat. Add onion, celery, and pepper, and cook until tender, about 3 minutes. Stir mixture into the roux.
Stir tomatoes, 1 teaspoon salt, and seafood stock into roux, and simmer until thickened, about 15 minutes. Stir in crab boil and filé powder.
In a large skillet over medium high heat, melt remaining 2 tablespoons butter. Add garlic, remaining 1 teaspoon salt, and cook until fragrant, about 30 seconds. Add shrimp, and cook until pink, about 2 minutes per side; add oysters, and cook about 2 minutes. Add white wine, and simmer 2 minutes. Stir seafood mixture into vegetable mixture, and serve immediately. Garnish with chopped fresh parsley, if desired.
Originally posted 2019-03-12 14:01:44.