14. Chicken, Sausage and Seafood Gumbo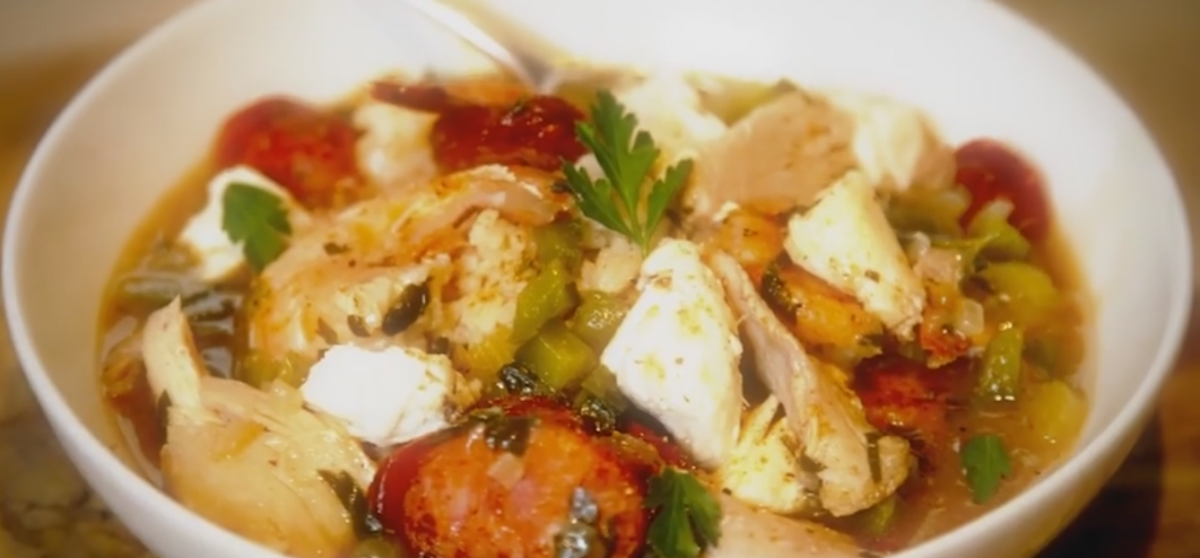 Ingredients:
Seasoning mix:
1 1/2

teaspoons

each: salt, paprika, thyme leaves, garlic powder, ground black pepper, dry mustard, sugar

3/4

teaspoon

each: ground cumin, white pepper, onion powder
Gumbo:
2

tablespoons

vegetable oil

4

chicken thighs

8

cups

water or chicken broth

8

ounces

precooked andouille sausage

1/2

cup

all-purpose flour

2

cups

chopped onion

1 1/2

cups

chopped red or green bell pepper

1

cup

chopped celery

1/2

cup

chopped parsley

1

pound

crab meat and shrimp (total)
Instructions:
Combine ingredients for seasoning mix.
Heat 2 tablespoons oil in a Dutch oven. Add chicken. Sauté until browned on both sides. Remove chicken from pan to a large saucepan, reserving drippings in Dutch oven. Add 8 cups water to cover chicken and simmer 1 hour. Drain, reserving stock. Bone chicken, reserving meat.
Add sausage to reserved drippings, and sauté until browned. Remove sausage, reserving drippings in Dutch oven.
Add enough oil to drippings to equal about 1/2 cup. Heat and add flour 1/4 cup at a time, stirring until smooth. Cook roux, stirring constantly, until browned and a deep caramel color, 5 to 6 minutes. Add onion, pepper, celery, parsley and 2 tablespoons seasoning mix. (You'll have about a half cup of seasoning mix left over.) Whisk well and cook 10 minutes.
Add reserved stock, whisking well and cook 20 minutes or until thickened. Add chicken, sausage and seafood and cook 10 minutes.
Originally posted 2019-03-12 14:01:44.