5. Steak Burrito Bowl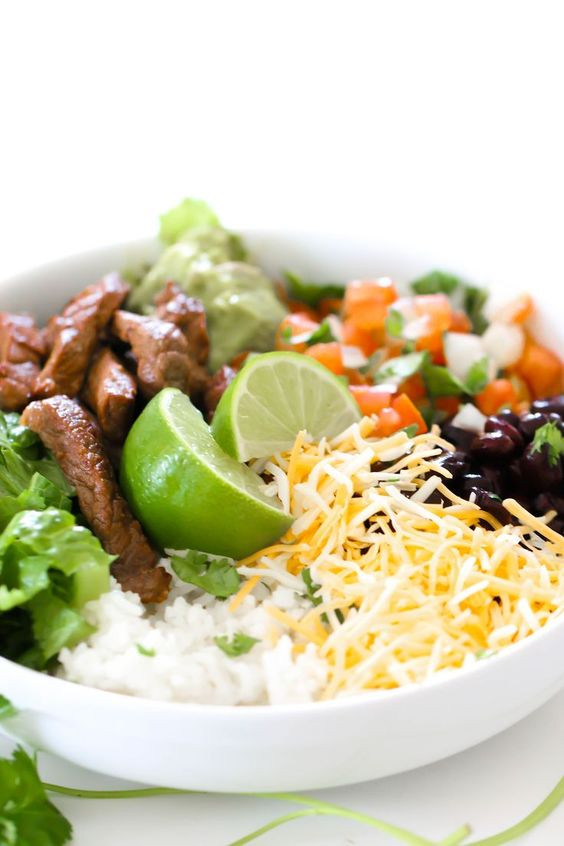 Ingredients:
2 pounds flank steak
1 teaspoon minced garlic
1/4 cup soy sauce
1/4 cup olive oil
1/4 teaspoon cumin
1/4 teaspoon chili powder
2 Tablespoons lime juice
2 cups cooked white rice
4 cups chopped romaine lettuce
2 cups pico de gallo
1 (15 ounce) can black beans
1 cup guacamole
1 cups shredded cheddar cheese
1/2 bunch chopped cilantro
1 lime
Instructions:
Slice steak into 1/4 inch strips.
In a resealable gallon-size ziploc bag, combine steak, garlic, soy sauce, olive oil, cumin, chili powder, and lime juice.
Marinade in the refrigerator for at least 1 hour (it tastes better the longer it marinates).
Remove steak from the marinade and pan fry over medium heat until it is cooked all the way through.
In four bowls, evenly distribute the cooked steak, rice, romaine lettuce, pico de gallo, black beans, guacamole, and shredded cheese.
Top with cilantro and lime juice.
Originally posted 2019-03-12 14:02:02.