4. Healthy Slow-Cooker Pepper Steak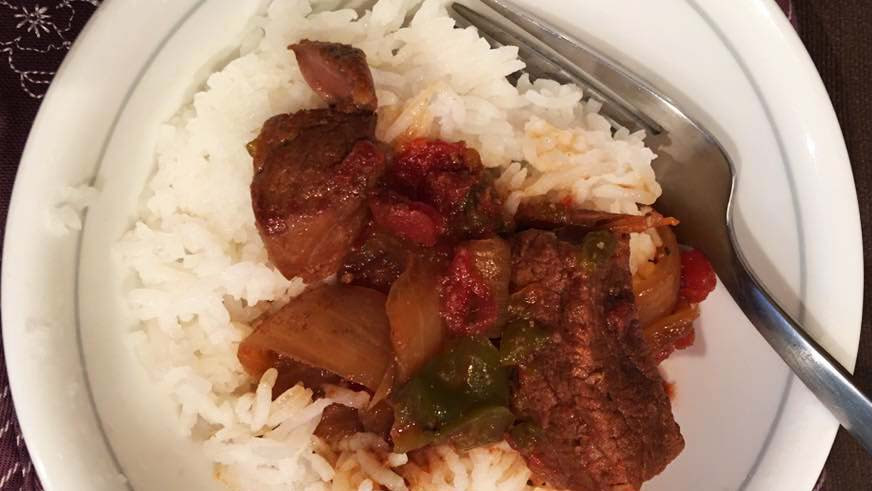 Ingredients:
2 pounds of top round steak, cut 1/4-inch-thick and 3-4 inches long.
Garlic powder (add to taste)
3 tablespoons of olive oil
1 cube beef bouillon
1/4 cup of water
1 tablespoon of almond meal (or any healthy alternative to cornstarch)
1 small onion, chopped
2 bell peppers of your favorite color, chopped
1 (14.5 ounce) stewed tomatoes can, with liquid
1 teaspoon of white sugar
3 tablespoons of soy sauce
Instructions:
Season and Sear Steak: Sprinkle the garlic powder on the strips of steak to your desired taste. Using a large pan, heat olive oil on medium heat. Add steak strips to cooking pan in small batches to quickly brown both sides of the strips. Do not leave strips in pan for too long, we just want to quickly sear them. After searing a batch, add them to the slow cooker.
Making the thickening sauce : In a sauce pan, heat the bouillon cube with the 1/4 cup of hot water until it mixes. Then, mix in the almond meal until it dissolves. Add the thickening sauce to the meat in the slow cooker.
Add Remaining Items, Mix and Cook: Add the chopped vegetables, stewed tomatoes, soy sauce and sugar to the slow cooker. After mixing everything well, cover your slow cooker and turn it on. Cook on high for 3-4 hours, or low for 6-8 hours. I highly recommend the low setting if you have the time.
Enjoy. After being teased by the smell for hours, it is finally time for you to enjoy. Pepper steak goes well with any carbohydrate on the side: rice, beans or potatoes for example. For variety, try adding vegetables like potatoes or carrots to the slow cooker. You don't need to adjust any ingredients, simply add for variety.
Originally posted 2019-03-12 14:02:02.