6. Korean BBQ Steak Bowls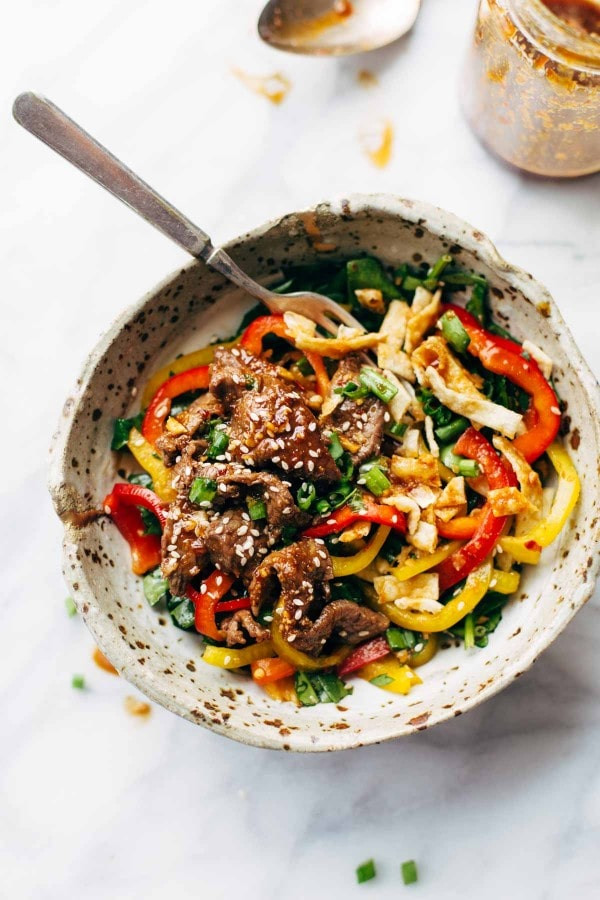 Ingredients:
for the spicy sesame dressing
2/3 cup low sodium soy sauce
1/4 cup mirin
1 tablespoon fresh minced or crushed ginger
1 tablespoon toasted sesame oil
2-3 tablespoons brown sugar
1-2 tablespoons sambal oelek (spicy chili paste)
5 cloves garlic
for the korean bbq steak bowls
1 lb. top sirloin steak, cut into very thin pieces
2 bell peppers (red and yellow), spiralized or cut into strips
2 handfuls of spinach
wonton strips, scallions, and sesame seeds for topping
Instructions:
Pulse the dressing ingredients in a food processor until smooth. Place the steak in a bag and cover with enough dressing to coat. Refrigerate for 1-2 hours (now would be a good time to prep all other veggies).
Heat a very heavy pan over high heat. Pull the steak out of the sauce and discard remaining sauce. Add the steak to the pan with a little oil if necessary depending on what type of pan you are using. It should sizzle! Let the steak sit for 1-2 minutes to get a golden brown sear, flip if necessary, or just remove from the pan and let it finish cooking on a plate. How long you cook the meat for is dependent on how well-done you want your steak, but just keep it mind that it cooks quickly because it's sliced very thinly.
Toss all the veggies and steak together with enough dressing to coat (you will likely have extra – save it in the fridge for another round). Throw in the wontons and scallions just before serving.
Notes
Add some big bold kimchi or seaweed or a soft-boiled egg if you want Korean BBQ Steak Bowls 2.0!
Originally posted 2019-03-12 14:02:02.