3. Healthy Salisbury Steak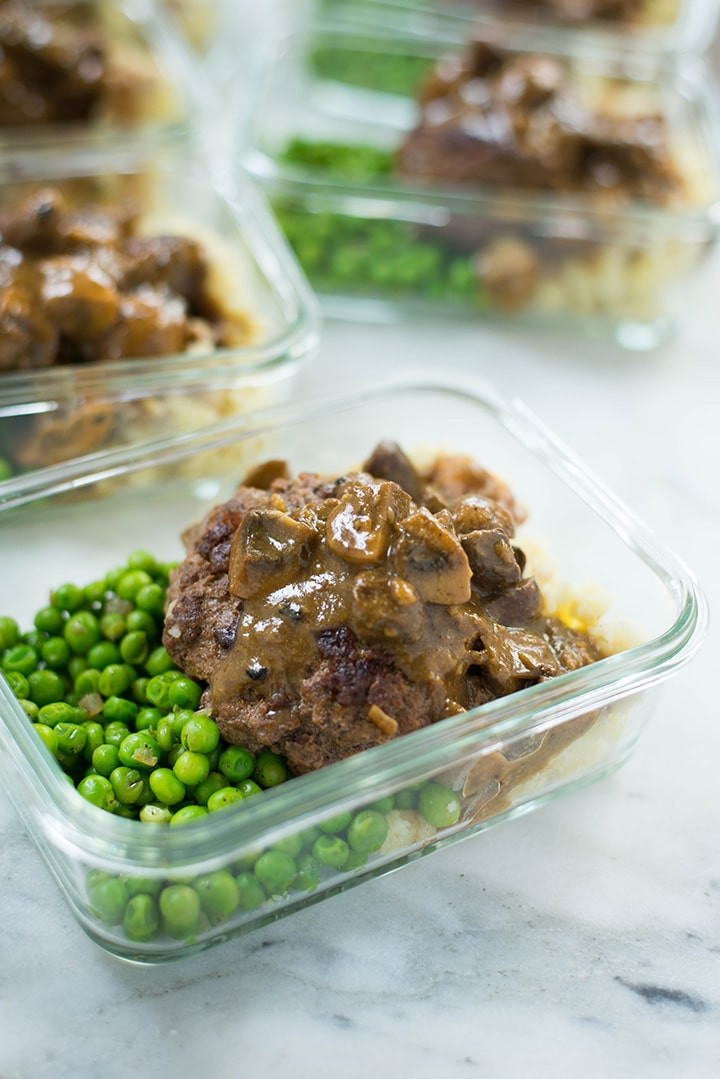 Ingredients:
For the Healthy Salisbury Steak:
1 1/2

lbs.

lean ground beef

1/2

cup

yellow onion,

finely diced

3

cloves

garlic,

minced

1/2

tsp.

ground black pepper

1/2

tsp.

sea salt

1

tbsp.

olive oil

1

lb

cremini mushrooms,

quartered (approx. 15 mushrooms)

3

tbsp.

Bob's Red Mill Garbanzo Bean Flour

1 3/4

cups

low sodium beef broth

11/2

tsp.

red wine vinegar
For the Mashed Red Potatoes:
1

lb.

red potatoes,

diced (approx. 1 lb)

1/2

tsp.

sea salt

1/4

tsp.

ground black pepper

2-4

tbsp.

low sodium beef broth,

as needed, to thin
For the Sautéed Peas:
1

tsp.

olive oil

3

tbsp.

yellow onion,

minced

4

cups

peas

(fresh or frozen)

1/4

sea salt

1/4

tsp.

ground black pepper
Instructions:
Fill a large stock pot part way with water, and then bring to a boil over high heat.
Add washed red potatoes in a steamer basket, and steam for about 15 minutes, or until they are fork tender. Then, remove from the heat.  (If you don't have a steamer basket, you could also add the potatoes to the water and just boil them – they lose a little bit of nutritional value to the water that way, but it's another way to cook potatoes for sure.)
Place the cooked potatoes into a large mixing bowl and add sea salt and black pepper. Using a fork or a potato masher, mash everything together until it's mostly smooth.  If you find the potatoes are just a little dry, you can add in some low sodium beef broth and then re-mix until until you reach your desired consistency.  Set aside.
In a separate large mixing bowl, add the ground beef, finely diced yellow onion, sea salt, black pepper, and garlic, and mix together very well.
Using your hands, divide the beef mixture into 6 and then shape into 6 even patties, just like you would a burger patty.
Heat olive oil in a large skillet over medium-high heat. Add the patties and cook until well-browned on each side, about 4-6 minutes per side, until cooked through. Then, remove and set aside.
In the same pan, add the quartered mushrooms, and cook them until they start to cook down and become golden, about 4-6 minutes.
Now, sprinkle with Bob's Red Mill Garbanzo Bean Flour, and then stir to incorporate until the flour disappears. The garbanzo bean flour will make the mixture start to thicken.
Add the beef broth and red wine vinegar to the mushrooms and stir to incorporate. Then, bring to a boil, and cook for about 5 minutes, or until thickened and looking like a luscious mushroom gravy.
Return the cooked patties to the mushroom gravy and cook for a 3-4 more minutes to heat through. Then, remove from the heat and set aside.
To prepare the peas, heat olive oil over medium-high heat in a skillet.
Add minced yellow onion and cook until tender, about 4-5 minutes.  Then, add the peas (which can either be fresh or frozen), some sea salt, and black pepper. Then, cook for 4-6 minutes, until the peas are heated through. Then, remove from the heat to cool some.
Start by dividing the mashed potatoes evenly into the meal prep containers – it'll be approximately 1/2 cup portions per meal. Next, add the sautéed peas to the other side of the container, which also happens to be about 1/2 cup portion. Add a salisbury steak patty on top, laying against the mashed potatoes, and then top with our dreamy, thick, and actually good for you mushroom gravy.
Notes
This meal makes a great lunch or dinner, and is so filling and delicious, thanks to that mushroom gravy using Bob's Red Mill's garbanzo bean flour. When you're ready to eat your meal, just remove the lid and reheat in the microwave for 2-3 minutes, or until heated through, and you're good to go.