8. Old-Fashioned Chinese Almond Cookies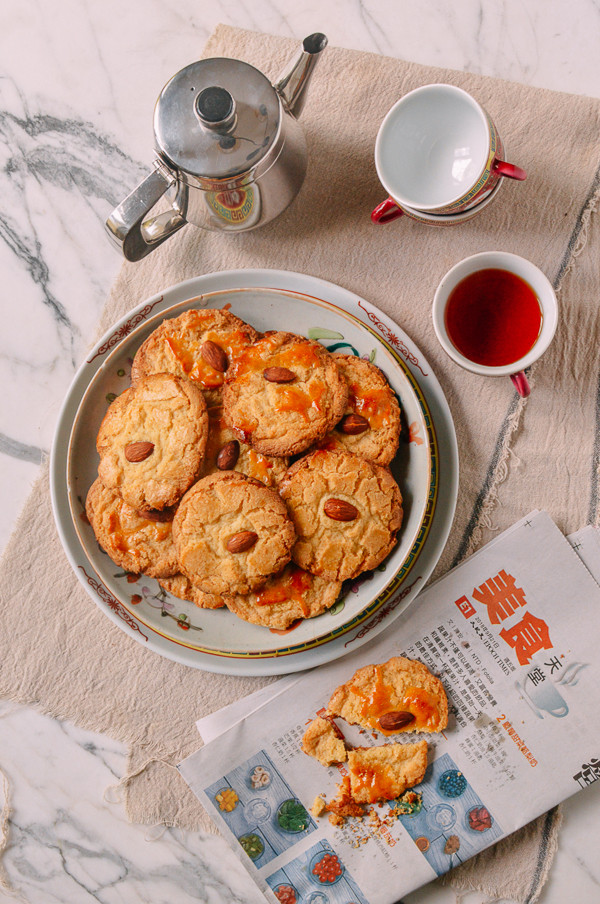 Ingredients:
1-1/4 cups all-purpose flour (160 g)
¾ cup powdered sugar (95 g)
3 tablespoons cornstarch (20 g)
1 teaspoon baking soda (5 g)
1 teaspoon baking powder (4 g)
2 egg yolks, plus 1 additional egg yolk for brushing
½ cup melted lard, at room temperature
1 teaspoon almond extract
18 toasted almonds
Instructions:
Sift together 1-1/4 cups (160 g) all-purpose flour, ¾ cup (95 g) powdered sugar, 3 tablespoons (20 g) cornstarch, 1 teaspoon (5 g) baking soda, and 1 teaspoon (4 g) baking powder in a large mixing bowl. Sift the mixture together again to make sure that all the ingredients are light and well-incorporated.
Next, beat 2 egg yolks into ½ cup melted lard (at room temperature). Beat in 1 teaspoon almond extract. Fold this mixture into the dry ingredients with a rubber spatula, then knead the dough with your hand to create a dough ball. Try not to overwork the dough. Cover with an overturned plate, and allow the dough to rest for 20 minutes.
Meanwhile, preheat your oven to 350 degrees F, and toast the almonds for 5 minutes. Cool completely before using. Beat the last egg yolk, and set it aside.
Now, raise the oven temperature to 375 degrees F. Take the dough, and divide it into 18 equal pieces. Roll each into a round ball, and transfer to a baking sheet so the cookies are placed at least 2 inches apart (they will spread out).
Brush all sides with the beaten egg yolk. Press one toasted almond onto the center of each dough ball before baking them for 15-18 minutes until golden brown.