9. Gluten-Free Chinese Almond Cookies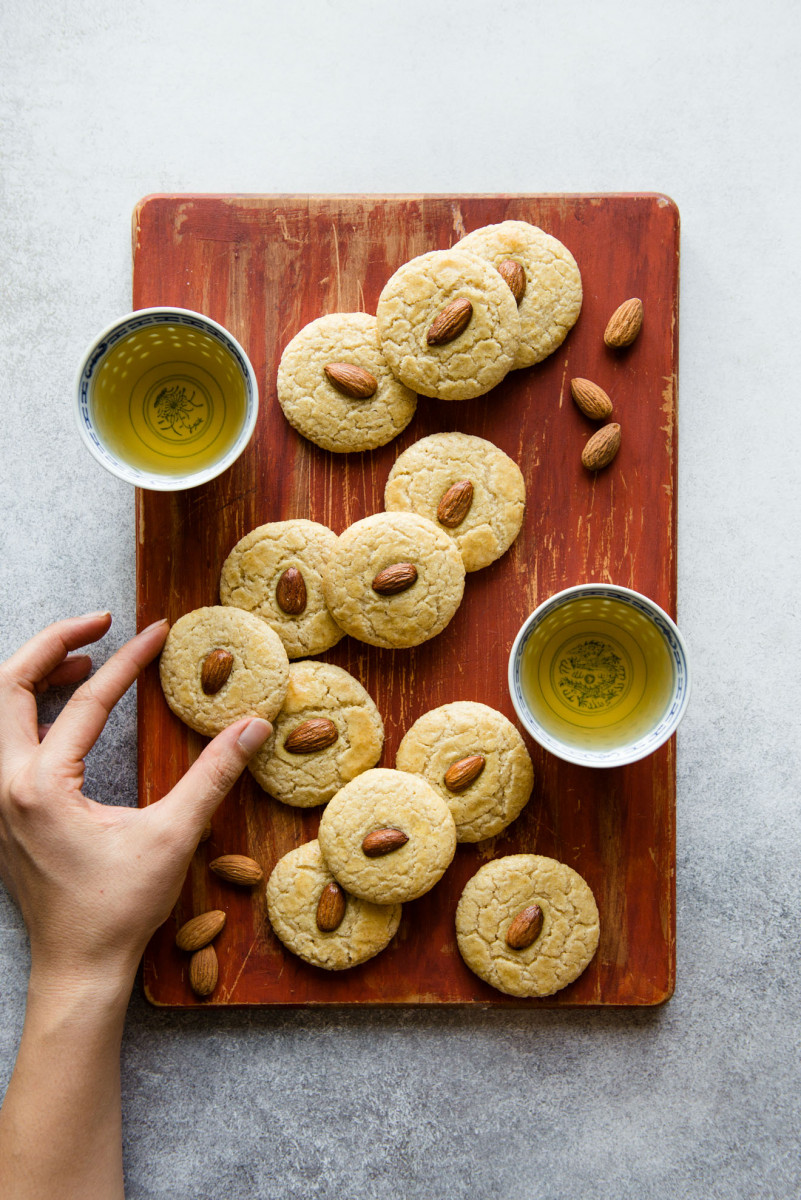 Ingredients:
1/2 cup unsalted butter, softened at room temperature
1 cup (220g) sugar
3 large eggs, divided
1 teaspoon vanilla extract
1/2 teaspoon almond extract
1 teaspoon baking powder
1/4 teaspoon sea salt
1 1/2 cups (185g) super fine almond flour
1 1/4 cups (160g) oat flour
1/3 to 1/2 cup raw almonds (for topping cookies)
Instructions:
In a large bowl, cream the butter and sugar together with an electric mixer on low speed for 2 minutes. The butter should be pretty light and fluffy at this point. Crack 2 eggs into the bowl and save the last egg for later. Beat the batter for 1 minute. Add the vanilla, almond extract, baking powder and sea salt. Quickly beat everything to mix the ingredients. Finally, add the almond flour and oat flour and beat until a dough forms and you don't see any dry streaks of flour.
Preheat the oven to 350ºF and position an oven rack to the center position. Line 2 large baking sheets with parchment paper.
Scoop out 1 tablespoon of cookie dough and roll it into a ball. The dough will be soft, but if you handle it pretty gently, the dough shouldn't stick to your hand. Place the dough ball onto a baking sheet. Try to leave a 1 1/2-inch gap between dough balls.
Using the fleshy part of your palm, gently tap the balls of dough to flatten into a disc, about 1 1/2 inches wide in diameter. Top each disc with an almond in the center.
Crack the last egg into a small bowl and whisk. Gently brush the egg wash over each cookie. This gives the cookies a nice glossy and crackly texture on top.
Once you have filled one baking sheet, pop it into the oven and bake for 12 to 14 minutes. The tops of the cookies should be lightly tan. Let the cookies cool on a baking sheet for 5 minutes before transferring them to a cooling rack. The cookies are still very soft when they come out the oven, so you want them to cool and harden before moving them off the cooking sheet.
While one sheet of cookies are baking, prepare the next batch of cookies. I baked all the dough in 3 batches.
When the cookies are completely cool, store them in an airtight container.
Notes
NUTRITION INFORMATION: Amount per cookie: Calories: 79, Total Fat 4.8g, Saturated Fat: 1.7g, Sodium: 461mg, Cholesterol: 19mg, Total Carbohydrate: 7.6g, Dietary Fiber: 0g, Sugar: 5g, Protein 1.8g
I used a half sheet for baking and was able to fit about 14 to 15 cookies on it.
I prefer using parchment paper over silicone mats for this recipe. The cookies kept sticking to the mat as I transferred them to the cooling rack.