Korean Barbecue Tofu Meal Prep Bowls — A sweet-and-spicy sauce makes these meal prep bowls totally crave-worthy. These Korean Barbecue Tofu Meal Prep Bowls can be divvied up into individual containers for grab-and-go lunches, or you can prepare each component, put them in the fridge separately, and assemble in individual bowls for dinner.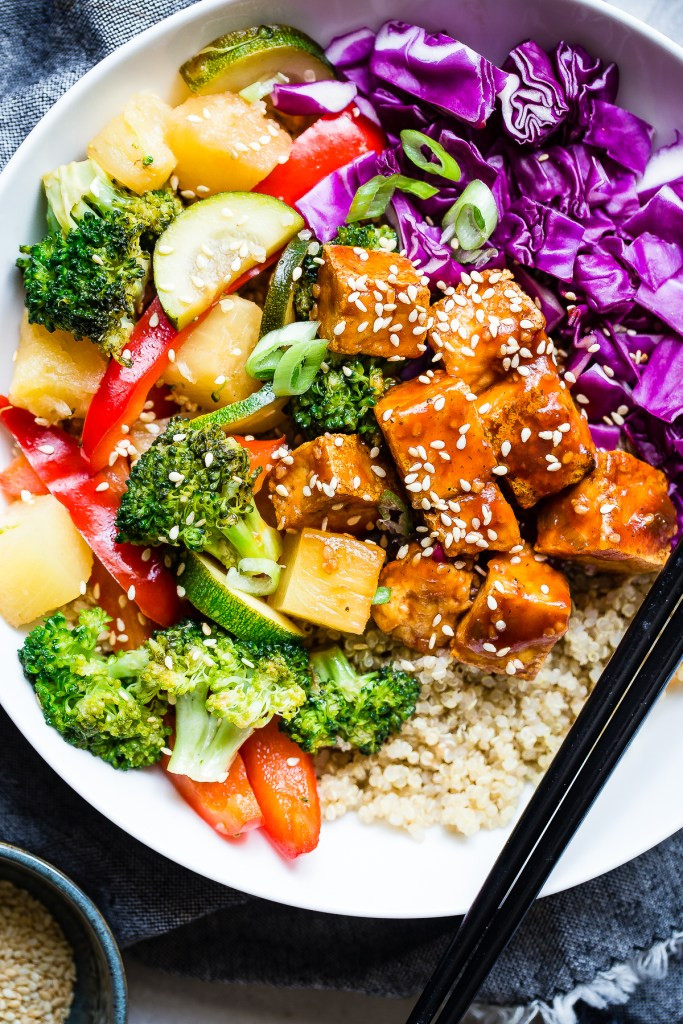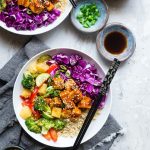 Ingredients
For the sauce:

1/2 cup ketchup
1/2 cup rice vinegar
1/4 cup tamari or soy sauce
1 1/2 tablespoons sugar
1 tablespoon sesame seeds
1 tablespoon Gochujang (use more or less to adjust the heat level)
1/4 teaspoon black pepper
2 green onions, thinly sliced
1 clove garlic, minced
1 (1-inch) piece ginger, grated
2 teaspoons toasted sesame oil
For the bowls:
2 tablespoons avocado oil (or any neutral flavored, high-heat cooking oil), divided
1 head broccoli, broken into florets
1 tablespoon water
1 medium zucchini, sliced into half moons
1 cup fresh pineapple chunks
1 medium red bell pepper, cored and sliced
1 tablespoon tamari or soy sauce
1 (15-ounce) package extra-firm tofu, pressed for 30 minutes and cut into 1-inch cubes
Cooked quinoa, shredded red cabbage or kimchi, sliced green onions, cilantro, lime wedges and/or sesame seeds for serving
Instructions
To make the sauce:
Combine the ketchup, vinegar, tamari, sugar, sesame seeds, Gochujang, black pepper, onions, garlic, and ginger in a small saucepan over medium heat.
Bring the mixture to a simmer, whisking often, then reduce heat to medium-low. Continue to simmer, whisking occasionally, for about 15 minutes, or until the sauce is slightly thickened. (It should be thinner than regular barbecue sauce, but thicker than teriyaki sauce.)
…..
Visit Korean Barbecue Tofu Meal Prep Bowls for full instructions