This Chicken & Hummus Plate Lunch Meal Prep is so simple yet incredibly filling and delicious! Get back to basics with some fresh cut bell pepper, carrot, cucumbers, paired with a perfect portion of chicken breast, cheese slices, and grapes for a touch of sweetness.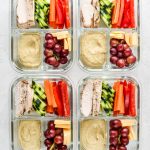 Ingredients
16 ounces cooked boneless skinless chicken breast (see notes for cooking method ideas)
1 cucumber, peeled and sliced
1 red bell pepper, seeds and stem removed, cut into strips
1 large carrot, peeled and cut into strips
1 bunch of red seedless grapes
4 ounces cheese (I used smoked gouda)
8 ounces hummus
your favorite cracker, pretzel thins, or pita chips (stored separately)
Instructions
Divide all ingredients into four even portions and add to storage containers. To each container add 4 ounces chicken breast, 1 ounce cheese, 2 ounces hummus, and an even portion of produce.
Visit Chicken & Hummus Plate Lunch Meal Prep for full instructions