The brilliant flavors of tomato puttanesca, capers and olives are the stars of this dish. Be sure to use a strong white fish such as cod, bass or haddock to resist other bold ingredients.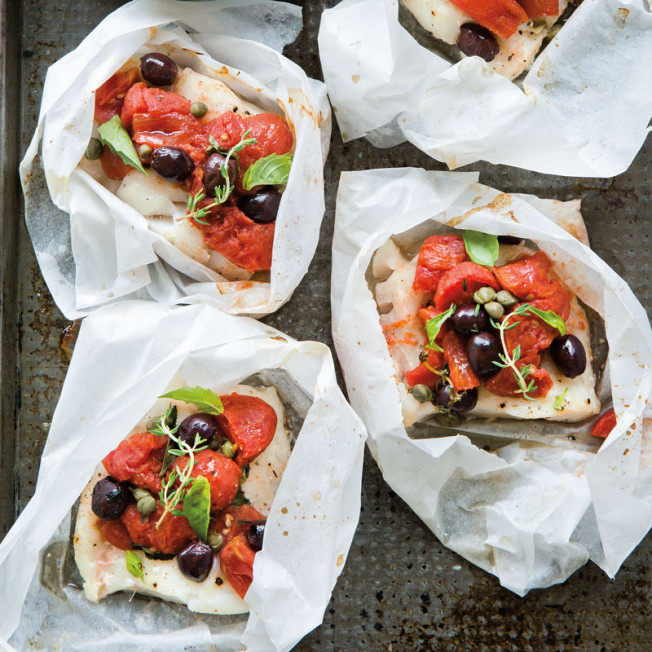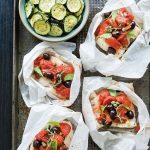 Ingredients
4 firm whitefish fillets, such as cod, sea bass or haddock, about 6 oz. (185 g) each
Kosher salt and freshly ground pepper
1 cup (14 1/2 oz./455 g) canned diced tomatoes
1 cup (5 oz./155 g) niçoise olives, pitted
1/3 cup (2 1/2 oz./75 g) capers, drained
1 cup (1 oz./30 g) fresh basil leaves, chopped
8 fresh thyme sprigs
4 small zucchini, cut into 1/4-inch (6-mm) rounds
3 Tbs. olive oil
Instructions
Preheat an oven to 350°F (180°C).
Cut parchment paper into four 9-inch (23-cm) squares and place on a baking sheet. Arrange each piece of fish in the middle of each square. Season each piece with salt and pepper and distribute the tomatoes with their juices, olives, capers, basil and thyme evenly among the packets. Season again with salt and pepper.
To close the packets, gather together 2 sides of the parchment paper and fold the edges over. Tuck the remaining 2 sides of the parchment paper under the fish. (Do not seal the packet too tightly because enough air needs to circulate to steam the fish. The seal should just be enough so that steam doesn't escape.) Repeat to make 3 more packets.
Pile the zucchini onto the baking sheet next to the packets. Drizzle with the olive oil, season well with salt and pepper, and toss to coat. Spread the zucchini in a single layer.
Bake until the zucchini is fork-tender and the flesh of the fish is opaque throughout and flakes easily with a fork, about 20 minutes.
Carefully open the packets and transfer the fish and zucchini to plates or place a packet on each plate and have diners open their own packets. Serve immediately.
Originally posted 2019-01-20 06:03:51.

Originally posted 2019-01-20 06:03:51.