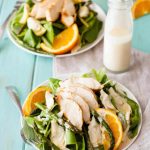 Ingredients
FOR THE SALAD:

2 Tbl Extra Virgin Olive Oil
2 Chicken Breasts
Real Salt (to taste)
1 Lb Asparagus (woody ends removed, stalks cut in half)
1 tsp Garlic (minced)
1 can Artichoke Hearts (quartered)
1 Bag Baby Spinach (about 8-10 cups)
FOR THE DRESSING:
1 Cup Mayonnaise
1 1/2 tsp Real Salt
1/4 Cup Extra Virgin Olive Oil
1/2 Lemon (juiced)
1/2 Orange (juiced)
Orange (for garnish)
Instructions
TO MAKE THE DRESSING:
In a mixing bowl, combine the mayo, salt, olive oil, lemon juice, and orange juice. Whisk together until smooth. Refrigerate until needed.
FOR THE SALAD:
Heat the 2 T. of Olive Oil in a medium sized frying pan. Season both sides of the twochicken breasts with salt and seasoning and place in the hot oil. Cook until both sides are golden brown on medium/high heat. Cover pan with a lid and continue cooking the chicken until cooked through, about 7-8 minutes, turning occasionally. Remove the chicken to a plate and let sit for 15 minutes to cool.
While the chicken is cooking, add the asparagus to the same pan on medium.high heat. Toss in the cooking oil and cover the pan with the lid, removing to toss occasionally, until the asparagus is bright green. Remove the lid and add the garlic. Continue to saute for another 30 seconds. Remove asparagus and let cool.
Assemble the salads by dividing the spinach between four plates. Slice the chicken breasts, topping each plate of spinach with 1/2 a chicken breast each.
…..
…..
Visit Healthy Artichoke and Asparagus Chicken Salad for full instructions