This fillo pastry fish & chips recipe is off the list, guys! It's a better, lighter version of the fries. It's as if your fish roasted in your pub was going to Paris and everything was ingeniously returned. It's really good, I'm trying to say it. Pot of gold!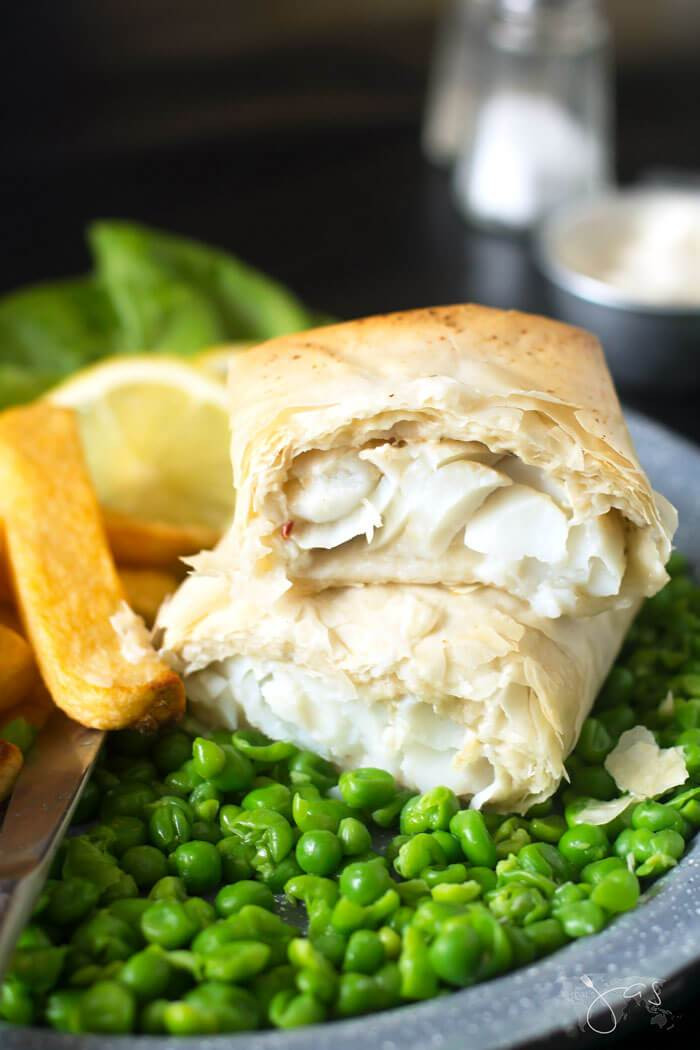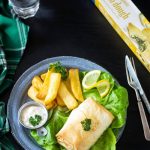 Ingredients
12 sheets Fillo Factory fillo pastry
6 cod fillets skin and bones removed (about 1 ½ pounds)
Lemon pepper seasoning
Old Bay seasoning
Salt to taste
8 tablespoons butter or oil
6 ounces herbs & spices cream cheese spread
Instructions
Rinse and pat dry cod fillets with paper towels. Season with salt, lemon pepper, and Old Bay seasoning.
Line a sheet pan with parchment paper. Lightly brush with oil. Set aside. Preheat the oven to 400 degrees Fahrenheit.
Meanwhile, gently place one sheet of fillo pastry on a large cutting board or working surface and lightly brush with butter or oil. Immediately top with the second sheet of fillo and brush with butter. Cover the remaining fillo to prevent drying.
Lay one seasoned fillet along the narrow end of the fillo and top with about 2 tablespoons cream cheese. Fold sides of pastry over the fish and brush edges with butter. Roll fish and fillo up to form a parcel. Brush with butter. Place on prepared pan.
Repeat with remaining ingredients. Bake 20-25 minutes or until pastry is golden brown.
Serve on a bed of crushed peas or salad, topped with tartar sauce, and alongside 'chips' (French fries).
Crushed peas (optional)
Blanche 3 cups frozen peas for about 1 minute and drain them, then immediately shocking them in the ice water. Drain the peas again and pat them dry on a large towel. Toss the peas with 3 tablespoons melted butter. Using a potato masher, lightly crush the peas. Season with freshly ground black pepper.
Notes
1. You can substitute cod with another white and firm fish like haddock, pollock, or halibut. 2. Mix fresh herbs (chives, dill, parsley), paprika, and garlic powder with plain cream cheese.