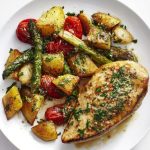 Ingredients
1 pound Yukon Gold potatoes, cut into 1-inch pieces
1 head garlic, cloves separated and peeled
3 tablespoons extra-virgin olive oil
Kosher salt and freshly ground pepper
4 skinless, boneless chicken breasts (about 6 ounces each)
1 bunch medium asparagus (about 1 pound), trimmed and halved
1 pint grape tomatoes
1/2 cup grated parmesan cheese (about 1 ounce)
1/4 cup chopped fresh parsley
2 teaspoons finely grated lemon zest
Instructions
Put a rimmed baking sheet on the lowest oven rack and preheat to 425 degrees F. Toss the potatoes and garlic cloves with 1 tablespoon olive oil, 1/4 teaspoon salt and a few grinds of pepper in a bowl; set aside.
Season the chicken with 1/2 teaspoon salt and a few grinds of pepper. Heat 1 tablespoon olive oil in a large skillet over medium heat. Add the chicken; cook until browned, 1 1/2 to 2 minutes per side. Transfer to the hot baking sheet. Scatter the potatoes and garlic around the chicken; reserve the bowl. Bake until the chicken is just cooked through, about 5 minutes. Transfer the chicken to a plate and tent with foil; leave the potatoes and garlic on the baking sheet.
Add the asparagus and tomatoes to the reserved bowl; toss with the remaining 1 tablespoon olive oil and 1/4 teaspoon salt. Add to the baking sheet with the potatoes. Bake until the vegetables are tender and the tomatoes start to burst, 13 to 15 minutes.
Remove the baking sheet from the oven; switch the oven to broil. Toss the parmesan, parsley and lemon zest in a small bowl. Nestle the chicken in the vegetables and sprinkle everything with the parmesan mixture. Broil until golden, 1 to 2 minutes.