This delicious chicken asparagus with white wine sauce is light enough for dinner on weekdays, but impressive enough to be accompanied. This recipe is also suitable for green beans or beans instead of asparagus.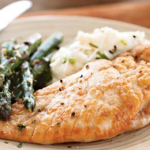 Ingredients
4 (6-ounce) skinless, boneless chicken breast halves
3/4 teaspoon salt
1/4 teaspoon freshly ground black pepper
2 tablespoons butter
1/2 cup all-purpose flour (about 2 1/4 ounces)
1/2 cup dry white wine
1/2 cup fat-free, less-sodium chicken broth
2 garlic cloves, minced
1 pound asparagus spears, trimmed
2 tablespoons chopped fresh parsley
1 tablespoon fresh lemon juice
Instructions
Place each chicken breast half between 2 sheets of heavy-duty plastic wrap; pound to 1/4-inch thickness using a meat mallet or small heavy skillet. Sprinkle chicken breasts evenly with salt and freshly ground black pepper.
Melt butter in a large nonstick skillet over medium-high heat. Place flour in a shallow dish. Dredge chicken in flour. Add chicken to pan; cook 3 minutes on each side or until done. Remove chicken from pan; keep warm. Add wine, broth, and garlic to pan, scraping pan to loosen browned bits; cook 2 minutes. Add asparagus; cover and cook 3 minutes or until asparagus is crisp-tender. Remove from heat; stir in parsley and juice. Serve asparagus and sauce with chicken.
Notes
Nutrition Information Calories 289 | Caloriesfromfat 25{e60ce88da641899e69f391bf16a42888542d229f3489f13ac1244d498781d7ad} | Fat 8g |S atfat 4.2g | Monofat 2g | Polyfat 0.8g | Protein 43g | Carbohydrate 10.5g | Fiber 2.8g | Cholesterol 114mg | Iron 4.3mg | Sodium 648mg | Calcium 59mg