Spinach Artichoke Dip Veggie Burgers — is a veggie packed burger patty stuffed with cream cheese and dripping with a cheesy white sauce. The patty itself is filled with spinach, artichoke, roasted garlic and onion, chickpeas, brown rice and of course, cheese! Parmesan cheese is throughout the patty and the whole thing is stuffed with cream cheese. The cream cheese will be melted and as you bite into it the cheesy white sauce blends with the cream cheese and creates a dip like bliss. The goal is to re-create the flavors of spinach artichoke dip as a satisfying vegetarian dinner.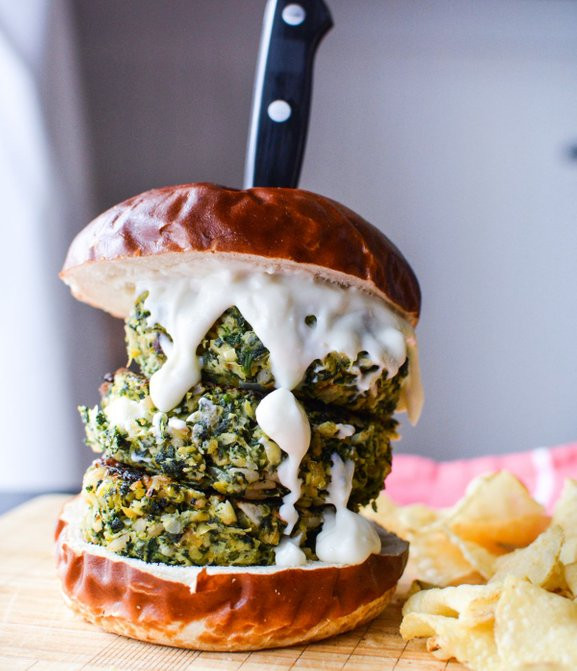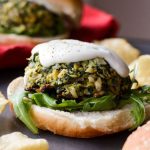 Ingredients
10 ounces frozen chopped spinach
15 ounce can of chickpeas, drained and dried
14 ounce can artichoke hearts, drained and dried
3 cloves garlic
1/2 large sweet onion, quartered
3/4 cup cooked brown rice, cooled
1/2 cup grated parmesan cheese
3 tablespoons all purpose flour
1 large egg, lightly beaten
1/2 teaspoon salt
4 ounces cream cheese, cut into 1/2 ounce pieces
White sauce (recipe below)
8 burger buns (regular or pretzel)
Cheesy White Sauce
2 tablespoons butter
2 tablespoons all purpose flour
1 cup whole milk, warmed
2 ounces cream cheese, cubed
1/2 cup grated parmesan cheese
Salt and pepper, for seasoning
Instructions
Preheat the oven to 400 degrees and line a baking sheet with parchment paper
Defrost the frozen spinach by placing it on a microwave safe plate and microwaving for 7 minutes (or follow the directions on the spinach)
Remove from the microwave and allow to cool for several minutes. When cool enough to handle, wrap the spinach in layers of paper towels and squeeze as much liquid out as possible (warning: the liquid is hot!). Set aside
Add the chickpeas, whole garlic cloves and onion slices to the baking sheet and toss with 1 tablespoon olive oil and season with salt and pepper
Cook for approximately 25 minutes – the chickpeas should be crisp and the onions and garlic softened. Allow to cool for a few minutes. Roughly chop the onion
Add the chickpeas, spinach, artichoke, onion and garlic to a food processor and process until everything is combined and in small pieces – see picture on my blog
Add the chickpea mixture to a large bowl
Mix in the brown rice, parmesan cheese, flour, beaten egg, and salt to the large bowl and stir everything together
To form each patty, scoop 3 tablespoons of the mixture on a baking sheet and lightly press down into a patty. Place 1/2 ounce cream cheese in the center of the patty and top with another 3 tablespoons of the mixture. Use your fingers to surround the cream cheese with mixture – the patty should be approximately 1 inch tall
Place the uncooked patties in the fridge for at least 2 hours
When the patties are done chilling, heat 1 tablespoon oil in a large skillet over medium heat
Add the patties (I worked in batches) and cook each side for 3 – 5 minutes – a brown crust should form. Flip carefully and cook the other side for another 3 – 5 minutes
To assemble, place the patty on the bun and top with plenty of white sauce
To Make Cheesy White Sauce
Melt the butter over medium low heat
Whisk in flour and stir constantly for a couple minutes
…
…
Visit Spinach Artichoke Dip Veggie Burgers for full instructions
Originally posted 2019-01-26 15:09:19.
Originally posted 2019-01-26 15:09:19.