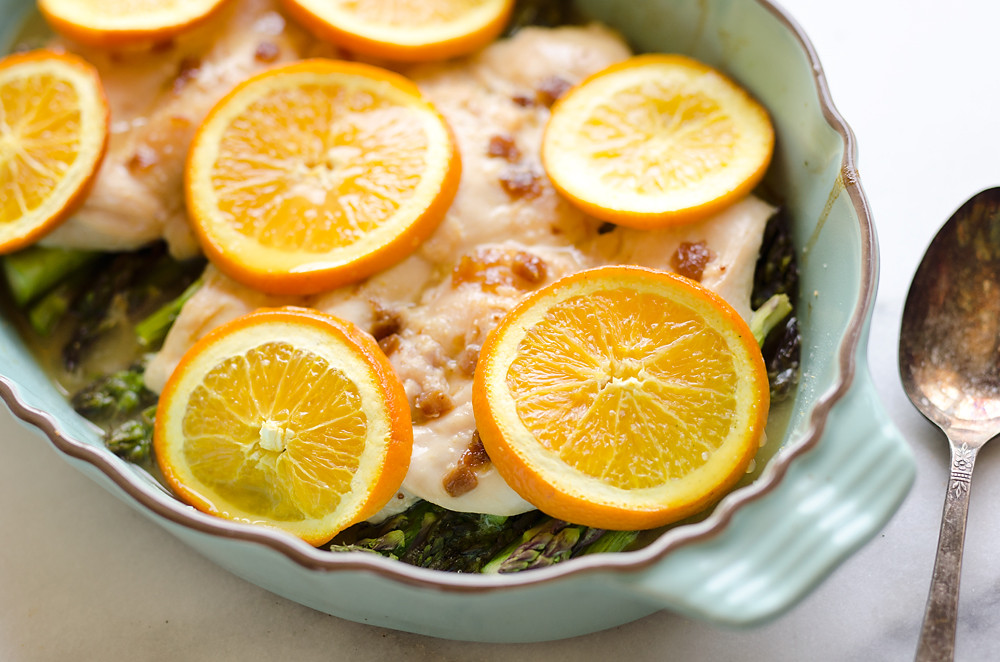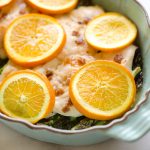 Ingredients
1 lb. boneless skinless chicken breasts
1/2 c. orange juice
1/3 c. fig spread
1 tsp. ginger stir-in paste
pinch of salt
1 bunch asparagus
1 orange sliced
4 oz. honey goat cheese optional
Instructions
In a large resealable bag, combine the orange juice, fig spread, ginger and salt. Mix until well combined and reserve 1/3 c. of the liquid for later. Add the chicken breasts to the remaining marinade and refrigerate for at least 15 minutes. (The longer you marinate it, the more flavor will be absorbed by the chicken.)

Preheat your oven to 350°.

Spray a 9″x13″ baking dish with non-stick spray. Trim the ends of the asparagus off and layer it on the bottom of the dish. Pour the reserved 1/3 c. liquid over the asparagus. Remove the chicken breasts from the bag and discard the remaining marinade.

Top the asparagus with the chicken and orange slices. Bake at 350° for 30 minutes.

Remove from the oven and top with goat cheese. Serve immediately.
Originally posted 2019-01-18 09:40:46.
Originally posted 2019-01-18 09:40:46.