Raspberry Almond Cups — filled with real raspberries, almond butter and a sugar-free homemade jam combine with coconut oil for an energy-filled snack! The jelly center is made of keto-friendly raspberries mixed with collagen containing grass-fed gelatin. To set the cups, add coconut oil, forming a smooth shell layer on the top and bottom of the jam filling.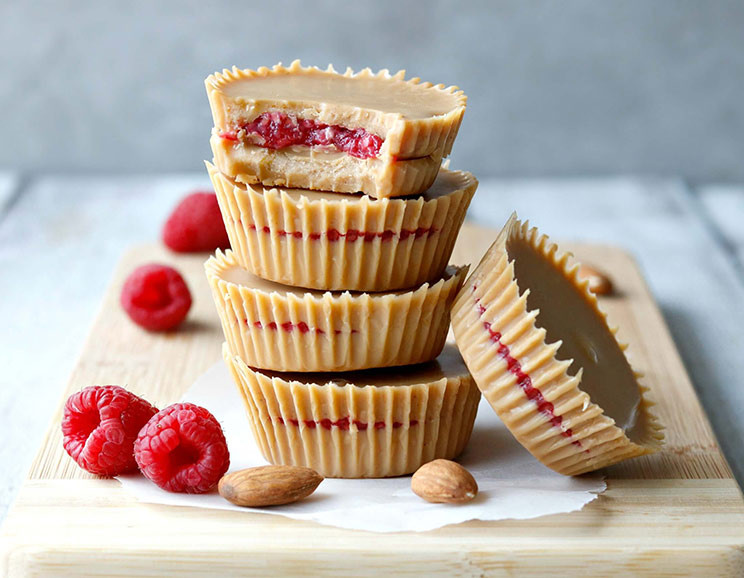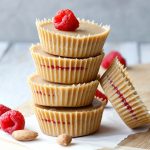 Ingredients
3 T water
1/3 cup fresh raspberries
1 t stevia
1/2 t grass-fed gelatin
1/2 cup coconut oil
1/2 cup creamy almond butter
Instructions
In a saucepan over low heat, combine water and raspberries. Bring to boil, reduce heat and simmer 5 minutes. Mash raspberries with a fork and remove from heat.
Stir in stevia and gradually sprinkle in gelatin as you stir. Pour into a small jar and cool in refrigerator 30 minutes.
Melt coconut oil and almond butter in a double boiler. Stir until smooth.
Line 6 muffin tins with liners and pour 2 tablespoons of almond butter mixture in each muffin tin. Place in freezer 15 minutes to set.
Add a heaping teaspoon of jam to each tin followed by remaining almond butter mixture on top. Place in freezer 15 minutes before enjoying. Store in the refrigerator.
Originally posted 2019-01-22 10:01:04.
Notes
Recipe by:author Jennafer Ashley
Originally posted 2019-01-22 10:01:04.