This is a homemade Moist Vanilla Cupcake recipe using oil instead of butter to produce a dense and sponge-like cupcake. The results are perfect cupcakes every time! This is a quick and easy vanilla cupcake recipe that is also versatile and can be adapted to other flavors. You can flavor the frosting with your favorite extracts such an almond, lemon or even peppermint. A little lemon or lime zest also does wonders.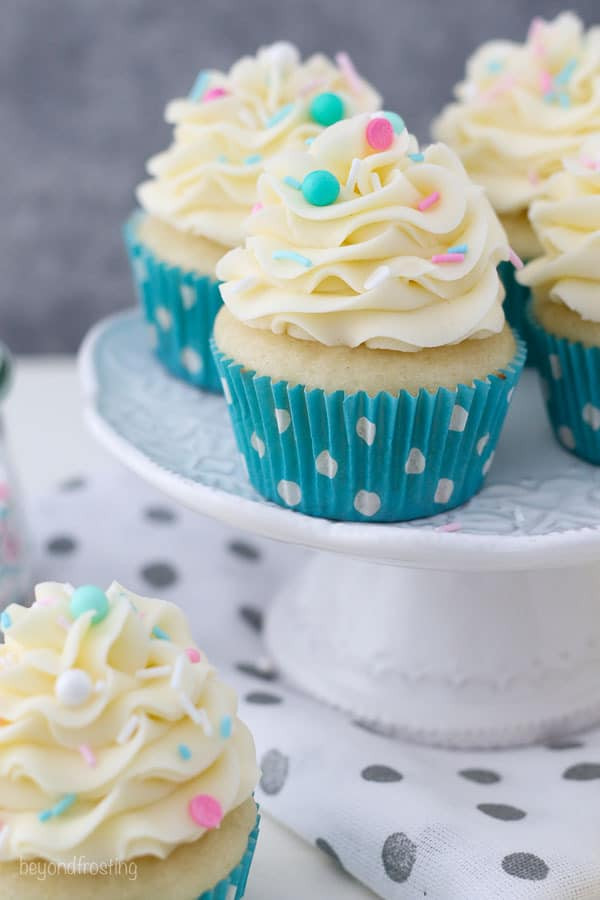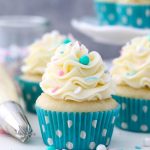 Ingredients
2 cups (380g) granulated sugar
½ cup (118 ml) vegetable oil
3 large eggs
1 tablespoon (14.8 ml) vanilla extract
½ cup(118 ml) light sour cream
2 ½ cups (350 g) all-purpose flour
3 teaspoons (11.2 g) baking powder
1 teaspoon (5 g) salt
1 ¼ cups (296 ml) milk (I use nonfat)
1 recipe Vanilla Frosting
Vanilla Frosting:
1 1/2 C (3 sticks) Unsalted butter, cold.
5 C Powdered sugar
2 1/2 tsp Vanilla extract
2 tbsp Heavy whipping cream
Instructions
To Make Vanilla Frosting:
Cut butter into pieces. Using the paddle attachment, whip butter for 5-7 minutes, scraping down the bowl occasionally. Beat until butter look light in color.
Add 2 cups of powdered sugar and mix on low speed until incorporated into butter then add 2 tsp of vanilla extract and mix to combine. Beat for about 60 seconds.
Next, add an additional 2 cups of powdered sugar and beat on low speed until sugar is incorporated. Increase speed to medium-high and beat for 3 minutes.
Add last 1 cup powdered sugar along with 2 tbsp heavy whipping cream and 1/2 tsp vanilla extract . Beat on low until ingredients start to mix together. Increase speed to medium-high and beat for another 3-5 minutes to whip additional air into the frosting.
Tips: This frosting can be kept at room temperature if serving within 24 hours and it's not too hot. It can be made ahead of time and kept refrigerated for two days. Frosting must come back to room temperature before piping.
To Make Cupcake:
Preheat the oven to 350°F. Line a cupcake pan with cupcake liners.
In a large mixing bowl, combine the sugar, vegetable oil, eggs and vanilla extract. Beat on medium speed until the eggs and oil are well incorporated and the batter is lighter in color, about 2 minutes. Scrape down the bowl as needed.
Next mix in the sour cream and beat until well combined.
Add half the flour followed by the baking powder and salt, and beat on low speed while pouring in half of the milk and mix just until the flour starts to incorporate.
…..
…..
Visit Moist Vanilla Cupcake for full instructions
Originally posted 2019-01-30 21:47:12.
Originally posted 2019-01-30 21:47:12.