Watermelon Cupcakes — Bright green cupcakes with buttercream that tastes like watermelon! Don't forget to add the mini chocolate chips! They complete the look of these Watermelon Cupcakes!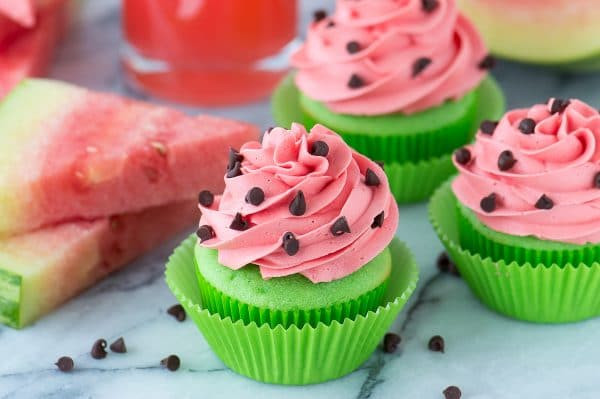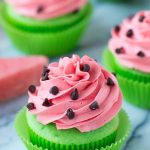 Ingredients
Cupcakes:

6 tbsp butter, softened
2/3 cup sugar
3 egg whites
1/2 cup sour cream
1 tsp vanilla extract
1 cup + 2 tbsp all purpose flour
1 & 1/2 tsp baking powder
1/4 tsp salt
leaf green food coloring by wilton (or similar light green food coloring)

Buttercream:

2 sticks of butter, unsalted at room temperature
1/2 cup vegetable shortening (can substitute butter)
3-4 cups powdered sugar
1/2 tsp of powdered watermelon koolaid mix
small about of red food coloring, to give the buttercream a pinkish color
mini chocolate chips
Instructions
Cupcakes:
Preheat the oven to 375º F. Place cupcakes liners to muffin pan.
In a mixing bowl, combine the butter and sugar, beat using an electric mixer until fluffy. Add in the egg whites, beat again.
Add in the sour cream and vanilla extract, mix by hand with spatula.
In a smaller bowl, combine the flour, baking powder and salt, gently mix with a spoon.
Gradually add half of the flour mixture to the wet ingredients, do not dump it in, rather take spoonfuls of the flour mixture and gently shake it over the wet ingredients, as if you were sifting in the flour. Fold in the mixture until no flour remains. Repeat with the other half of the flour, folding it in and scraping the sides and bottom of the bowl to incorporate everything.
…..
…..
Visit Watermelon Cupcakes for full instructions
Originally posted 2019-01-30 21:55:49.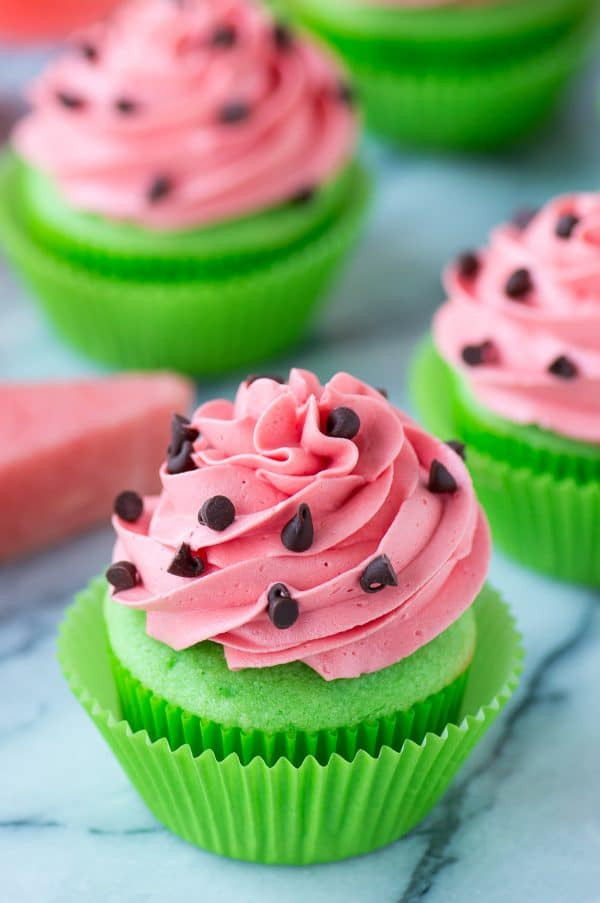 Originally posted 2019-01-30 21:55:49.