Add some sunshine to your winter day with this Low Carb Lemon Strawberry Cheesecake. Make this dessert delicious and easy to cook in minutes. One of the best features of a low carb diet is the ability to prepare desserts similar to a cheesecake while staying on a diet. This no bake, Low carb lemon strawberry cheesecake treat is case in point. Shiny lemons go perfectly with thick, fresh strawberries. And we all know strawberries and cheesecake are a match made in heaven. This dessert only lasts a few minutes and contains only 5.3 grams net carbs.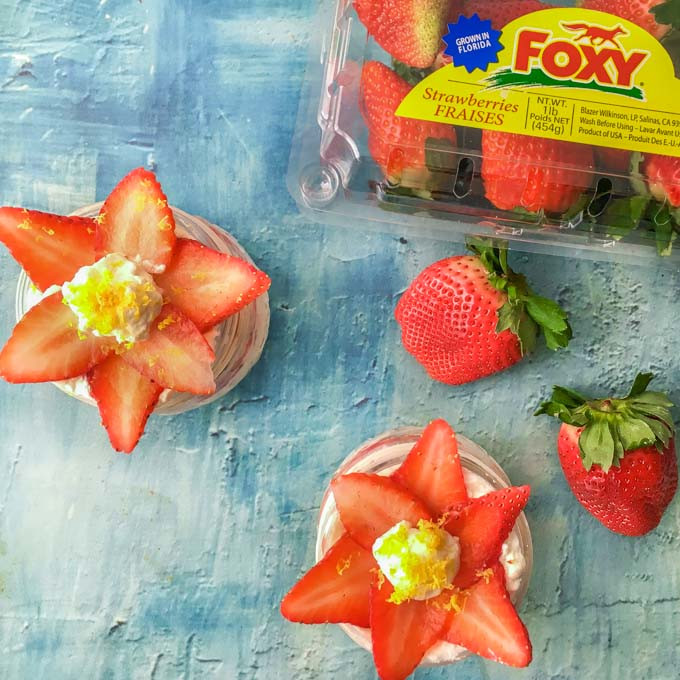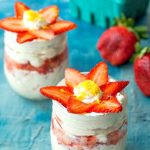 Ingredients
3

oz

cream cheese, softened

3/4

cup

heavy whipping cream

1/3

cup

Swerve sweetener**

2

teaspoons

lemon extract

zest of 1 lemon

2

strawberries, large
Instructions
In a mixing bowl add the cream cheese, sweetener and whipping cream. Beat on high until smooth and creamy.
Add in lemon extract and mix well. If you would like more lemon flavor add a bit of the lemon zest as you won't need all of it.
Take 1 of the strawberries and chop into little pieces. With the other strawberry, slice into thin heart shaped pieces.
Fill each jar half way with half of the cream cheese mixture.
Add the chopped strawberry to both jars to make a nice layer.
Top the strawberries with the rest of the cream cheese mixture.
Use the slices of the strawberry to make a flow pattern on top.
Sprinkle lemon zest in the middle of each flower. You don't have to use all the zest, just what looks nice.
Refrigerate until ready to eat.
Originally posted 2019-01-22 08:52:06.
Notes
**You can use whatever sweetener you like. Just make sure the amount you use is equal to 1/3 cup sugar. Nutrition Facts : 474 cals / 48.2g fat / 5.7g carbs / 0.4g fiber / 4.5g protein = 5.3g net carbs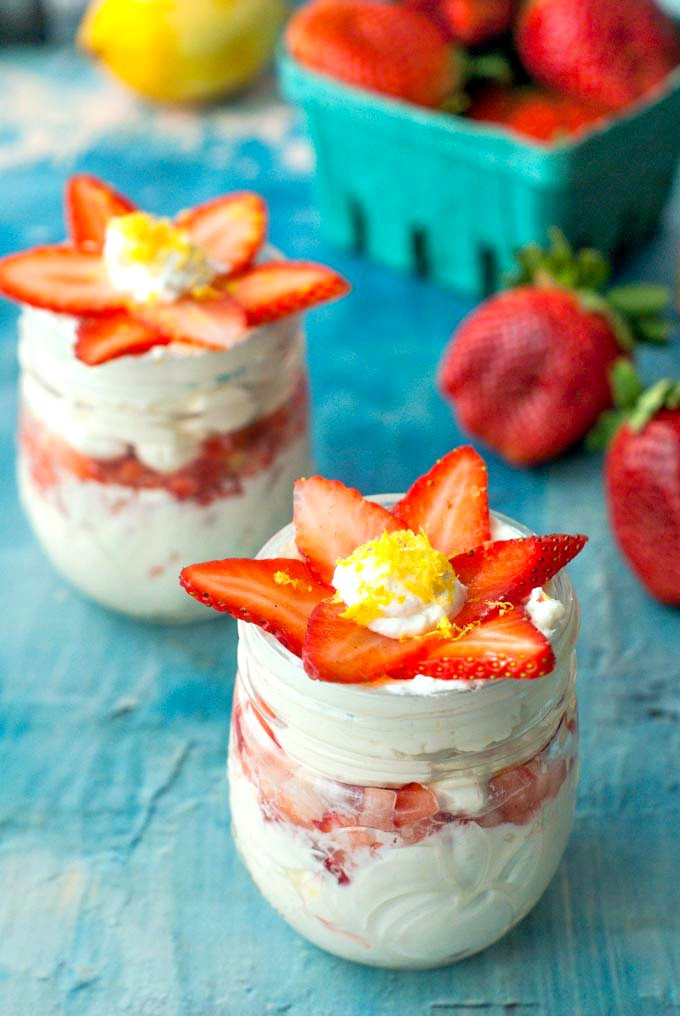 Originally posted 2019-01-22 08:52:06.