This salad as a whole is so versatile and delicious. You can change up many of the ingredients to suit your taste. This Italian Pasta Salad is a shoo-in. It's a crowd pleaser, crazy simple, and fantastically delicious.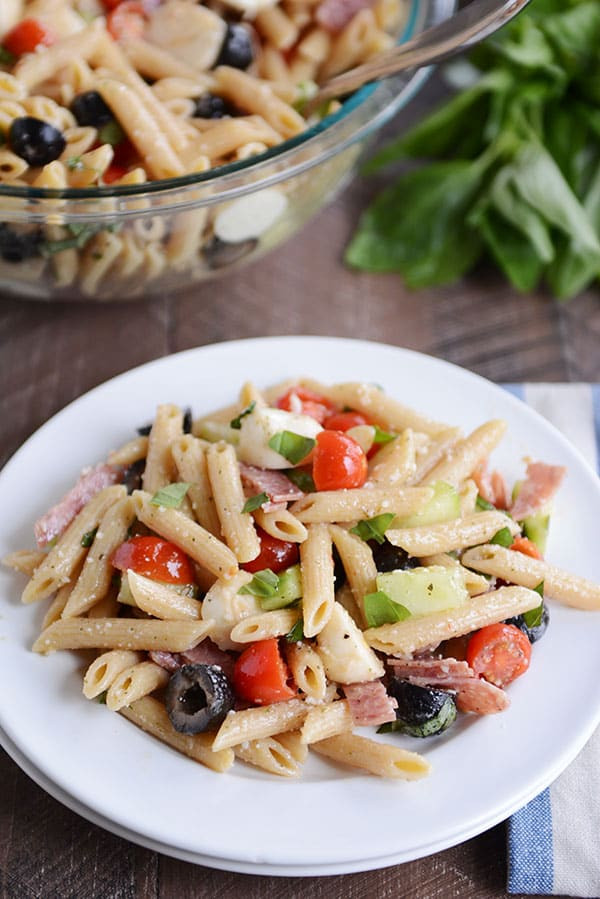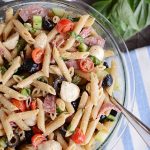 Ingredients
Salad:

12 ounces whole wheat or regular penne pasta, cooked until al dente (see note)
6-ounce can of large olives, drained and sliced in half
1-2 cups chopped cucumber
2 cups sliced or chopped cherry tomatoes
4-6 ounces sliced or chopped salami or pepperoni, about 1 cup
8 ounces fresh mozzarella balls, cut in half (see note for options)
1/4 cup chopped red or green onions
1/4 cup chopped fresh parsley or basil
Dressing:
1/3 cup olive oil
1/4 cup red wine or white balsamic vinegar
2 tablespoons freshly grated Parmesan or Parm-reggiano cheese
1 teaspoon honey or sugar
1 garlic clove, minced
1/2 teaspoon coarse, kosher salt
1/4 teaspoon dried oregano
1/4 teaspoon dried basil
1/4 teaspoon dried parsley
Pinch of black pepper
Pinch of red pepper flakes
Instructions
Combine all the salad ingredients in a large bowl.
For the dressing, combine all the ingredients in a bowl, jar or blender, and whisk, shake or process until combined (use a blender if you want the cheese in smaller pieces).
…..
…..
Visit Italian Pasta Salad for full instructions
Originally posted 2019-02-02 03:39:38.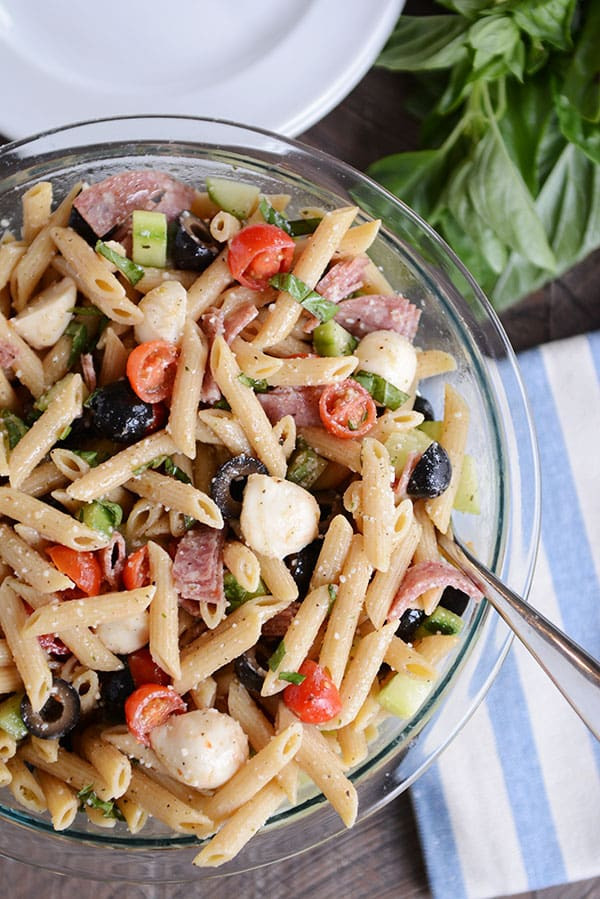 Originally posted 2019-02-02 03:39:38.