These Easy Breakfast Quesadillas are filled with fluffy, scrambled eggs, green peppers, bacon and cheddar cheeses, all enveloped between two crispy tortilla shells. It's an easy meal that's perfect for busy mornings!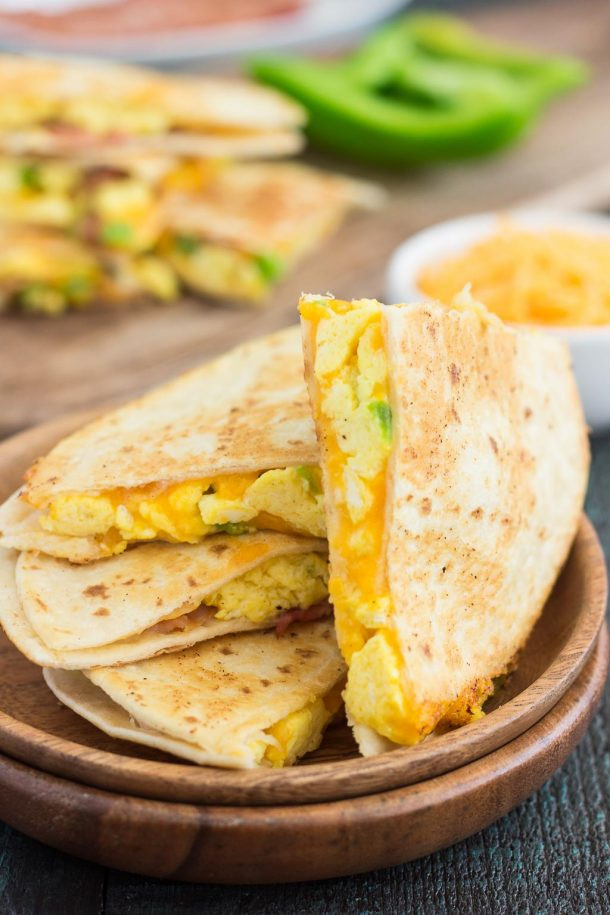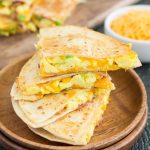 Ingredients
6 eggs
1/4 cup milk, any kind
Salt and pepper, to taste
1/2 green pepper, diced
4 tablespoons unsalted butter, divided
6 slices bacon, cooked, drained, and roughly chopped
3/4 cup shredded cheddar cheese, divided
6 large, soft tortilla shells
Instructions
In a medium bowl, whisk eggs, milk, salt and pepper. Add green peppers and stir to combine (see note below). Set aside.
In a large skillet, melt 2 tablespoons butter over medium heat. Add egg mixture and cook until no longer runny, stirring often. Remove eggs to separate plate.
In the same skillet (wipe, if needed), melt 2 tablespoons butter over medium heat. Place one tortilla shell in middle of pan.
Top with 1/4 cup cheese, leaving a 1/2 inch border around tortilla. Spread eggs in an even layer on top of cheese, followed by bacon and a sprinkling of more cheese, if desired.
Place second tortilla shell on top of egg mixture and lightly press down.
…
…
Visit Easy Breakfast Quesadillas for full instructions
Notes
I chose not to sauté the green peppers before adding to the eggs, which keeps them slightly crunchy. If you prefer softened green peppers, sauté them in a tablespoon of unsalted butter/oil until softened before adding to eggs.