This cake was created in honor of the marriage of Queen Victoria's granddaughter to Prince Louis of Battenberg. It is served at tea time.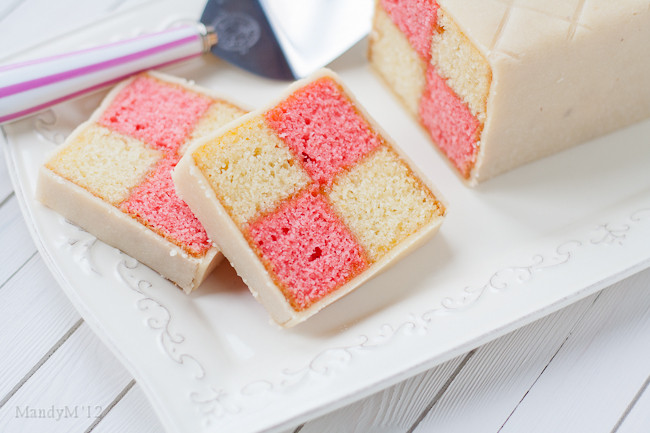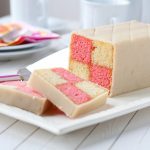 Ingredients
1 cup unsalted butter, softened
1 1/2 cups granulated sugar
3 eggs, room temperature
1 tsp vanilla extract
1/2 tsp almond extract
2 cups all-purpose flour
1 tsp baking powder
1 tsp kosher salt
1/8 cup whole milk
4 drops red food coloring
2 cups apricot jam
Almond Paste
2 cups almonds-ground
3 cups powdered sugar
1 egg, room temperature
1 tsp fresh lemon juice
1 1/2 tsp almond extract
Instructions
Preheat the oven to 350 degrees. Spray two 8-inch square baking pans
In a large bowl, cream butter and sugar together until fluffy. Whisk together eggs, vanilla extract, almond extract, then slowly add to butter mixture followed by flour, baking powder and salt. Finally, stir in the milk.
Divide batter in half. Add red food coloring to one batch and mix well. Spread the batter separately into each of the prepared pans.
Bake 25-30 minutes, or until toothpick comes out clean. Cool in pans 10 minutes before turning out onto wire rack to fully cool.
Cut cakes into four long strips about 2 inches wide. Trim the cake so all parts are equal.
In a small saucepan, heat jam slightly. Spread on one side of pink cake strip and one side of white strip to glue two strips together. Spread onto the opposite side of the white strip and one side of a pink strip and glue them together. You will now have four strips glued together in a checkerboard effect. Spread apricot jam on the top of the strips glued together. Continue to do the same with the remaining strips, placing them on top of the first layer, beginning with a white strip, e.g. pink on the bottom – white on top.
Almond Paste
Mix together ground almonds, sugar, lemon juice and almond extract. Knead until smooth. If paste feels too dry to roll, add a bit more lemon juice. Do not be surprised if this is stiff – this should be stiff.
Visit British Battenberg Cake for full instructions
Originally posted 2019-01-24 13:13:30.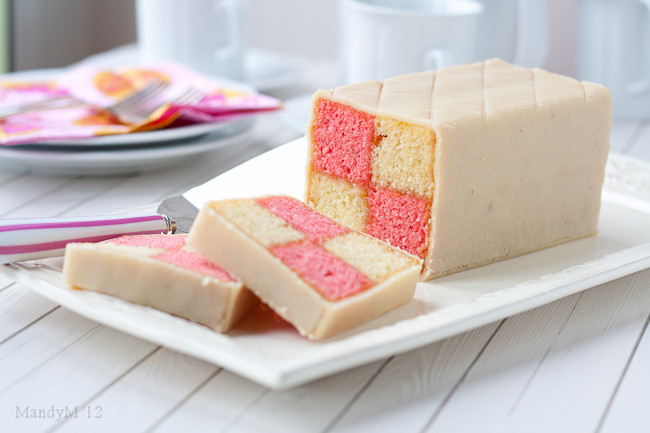 Originally posted 2019-01-24 13:13:30.