This week, I'm carrying on with my recent preference for Asian-influenced flavours, with a simple noodle salad dressed with soy sauce, ginger and lime.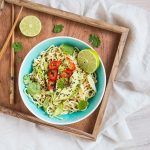 Ingredients
Noodles
3 tablespoons of soy sauce
1 tablespoon of toasted sesame oil
1 teaspoon grated ginger
1 clove of garlic grated
Juice of half a lime
1 avocado
Red chilli
Spring onions
Fresh coriander
Black sesame seeds (optional)
Instructions
Make the noodles according to the packet's instructions. Drain and allow to cool completely.
For the dressing, mix together the soy sauce, toasted sesame oil, grated ginger, grated garlic, and the juice of half a lime. Pour the dressing into the noodles and mix well.
…
Visit Avocado Noodle Salad for full instructions
Originally posted 2019-01-24 11:36:51.
Originally posted 2019-01-24 11:36:51.