Extremely moist and flavorful banana bread donuts with a delicious cream cheese frosting! Add a pinch of chopped nuts for a nice little crunch. The base of banana bread donut consists of simple, everyday ingredients that you probably already have in your pantry. You will need: butter, flour, brown sugar, baking powder, salt, cinnamon, nutmeg, an egg and ripe bananas. For the icing, you need a block of very tender cream cheese, pastry chef's sugar, pinch of salt and cinnamon and chopped nuts. If you are allergic to nuts or if you are not a fan, you can ignore them. I love the tightening they add!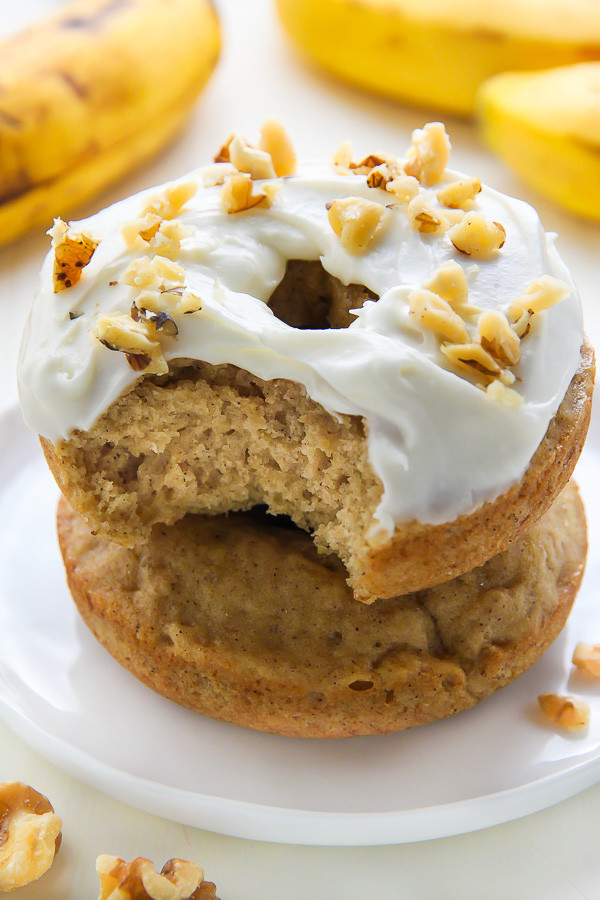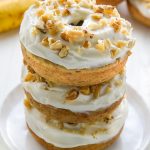 Ingredients
For the banana bread donuts:

1 cup + 2 tablespoons all-purpose baking flour
1/2 cup dark brown sugar
1/2 teaspoon salt
1/2 teaspoon cinnamon
1/4 teaspoon ground nutmeg
1 teaspoon baking powder
1/2 cup very ripe bananas, mashed
2 1/2 tablespoons unsalted butter, melted
1 large egg, at room temperature
For the cream cheese frosting:
3 ounces cream cheese, VERY soft
3 tablespoons unsalted butter, VERY soft
1 teaspoon pure vanilla extract
1 and 1/2 cups confectioners' sugar, sifted
1-2 tablespoons milk
1/2 cup walnuts, chopped, for decorating
Instructions
For the banana bread donuts:
Preheat oven to 350 degrees (F). Lightly grease a doughnut pan; set aside.
In a large bowl whisk together the dry ingredients. In a separate bowl whisk together the mashed bananas, melted butter, and egg. Gently fold the wet mixture into the dry mixture – don't over mix!
Spoon mixture into prepared doughnut pan and bake for 10-11 minutes, or until the doughnuts spring back when lightly pressed. Allow doughnuts to cool a few minutes in the pan before transferring to a wire wrack to cool completely.
…
…
Visit Banana Bread Donuts with Cream Cheese Frosting for full instructions
Originally posted 2019-01-25 22:35:41.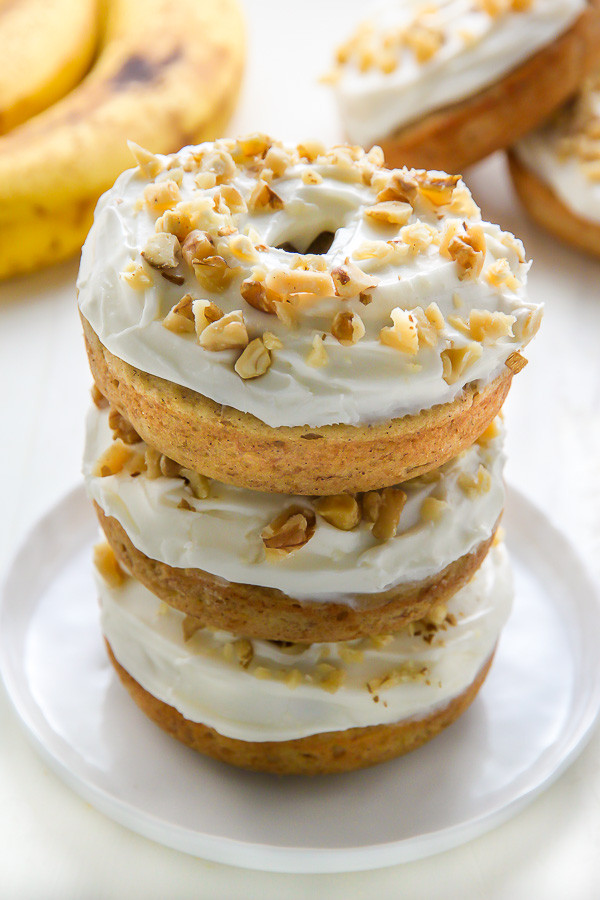 Originally posted 2019-01-25 22:35:41.