1. Vegan Red Thai Coconut Curry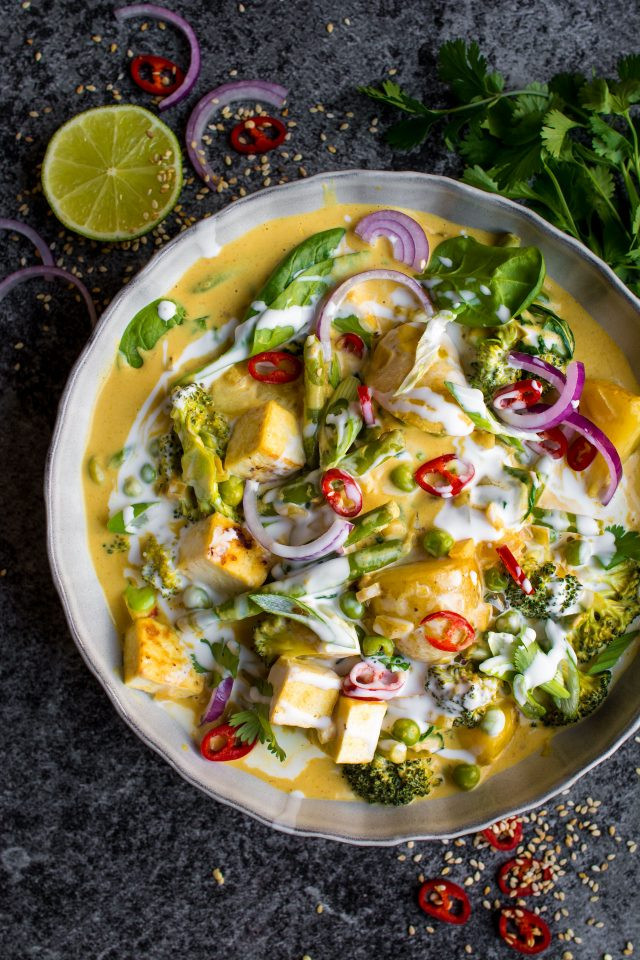 Yield: 4 servings
Prep: 20 minutes
Cook: 30 minutes
Total Time: 50 minutes
Ingredients
1

 

White Onion

 

finely diced

1

 

thumb-sized

 

Piece of Ginger

 

minced

3

 

tbsp

 

Red Curry Paste

 

(ensure yours is vegan, or make your own)

2 x 400ml

 

cans

 

Coconut Milk

2

 

tsp

 

Chilli Paste

4

 

tbsp

 

Soy Sauce

1

 

tsp

 

Rice Wine Vinegar
1

 

head

 

Broccoli

 

cut into florets

6-7

 

Small Potatoes

 

quartered

1

 

large handful

 

Green Beans

1

 

cup

 

Frozen Peas

1

 

block (250g)

 

Tofu

 

cut into 1-inch cubes

1

 

large handful

 

Spinach
1/2

 

Red Onion

1

 

Red Chilli

Fresh Coriander

Sesame Seeds
Instructions
First, wash and quarter the potatoes and boil for 10 minutes, drain and set aside.

While the potatoes are boiling, start making the sauce. Add a little oil to the bottom of a large stockpot. Cook the finely diced onion and the minced ginger over a medium/high heat for 3-4 minutes until the onion is translucent. Add the curry paste and cook for another minute.

Next, add the coconut milk and give everything a good stir. Add the soy sauce, chilli paste and bring to a simmer.

In another frying pan, heat a little oil and fry the tofu until it's golden on all sides.

Add the cooked potatoes, and the other vegetables (except the spinach) into the curry sauce and simmer for 5 minutes. In the end, stir in the rice wine vinegar and the spinach, until the spinach wilts.

Serve the curry with rice, and top with the tofu, some sliced red chilli, sliced red onion, some fresh coriander and a sprinkling of sesame seeds.
Originally posted 2019-01-04 02:51:40.