This Vegan Gumbo recipe is hearty, spicy, nourishing and warming. With a blend of beans, mushrooms and okra, this vegetarian gumbo is inexpensive to produce and full of flavor. Starting with a rich dark red, essential herbs and spices and a secret umami ingredient, it's hard to believe that this vegan gumbo does not contain meat!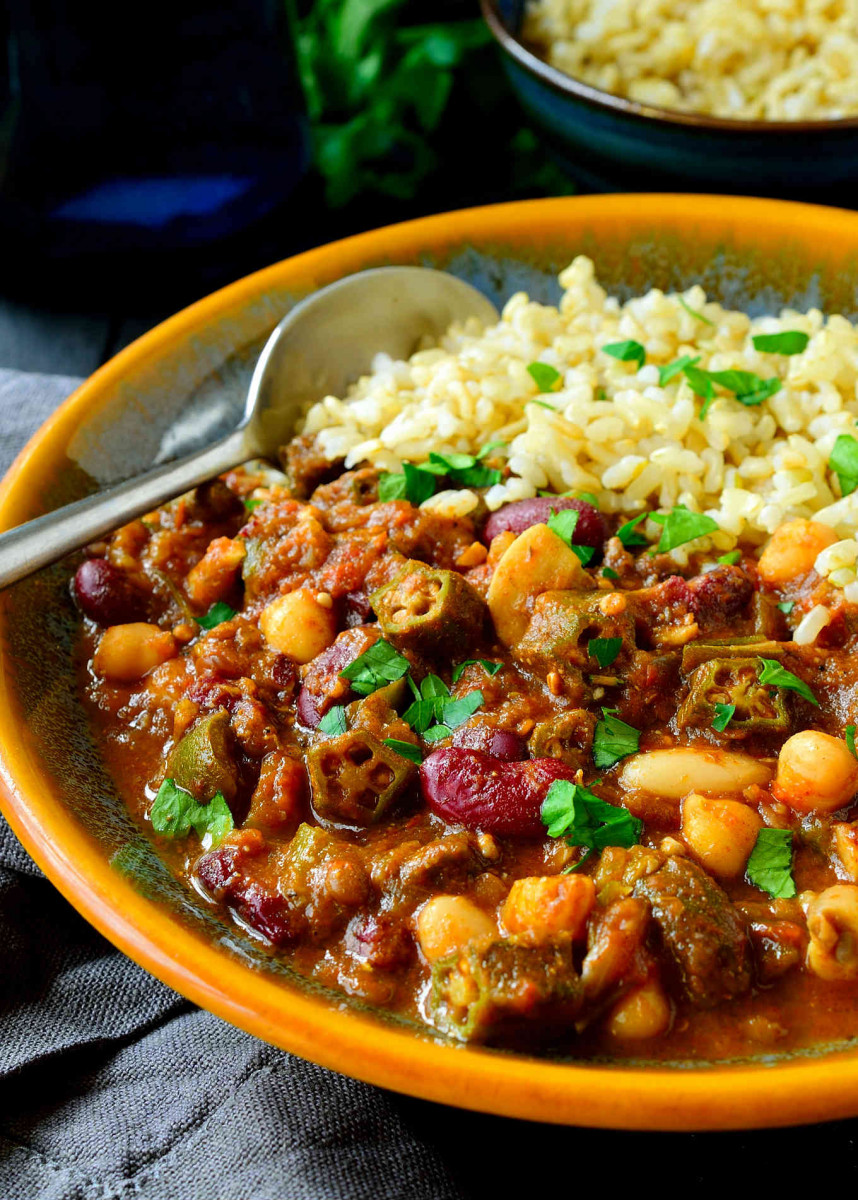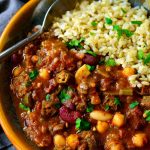 Ingredients
¼ cup olive oil
¼ cup flour
1 medium onion, diced
1 small green pepper, diced
1 celery stalk, diced
3 cloves of garlic, minced
2 cups (200 grams) okra, sliced
1 can (400 grams / 14 oz) crushed tomatoes
2 ½ - 3 ½ cups vegetable stock
10 button mushrooms, quartered
½ teaspoon thyme
½ teaspoon cayenne pepper (or more to taste)
2 bay leaves
2 cups (330 grams) mixed beans or lentils (I used chickpeas, kidney beans, white beans and brown lentils)
1 tablespoon dark miso paste
½ teaspoon salt (or to taste)
Freshly ground pepper
Brown rice, to serve
A small handful of fresh parsley, for garnish (optional)
Instructions
Heat a wide saucepan over medium heat. Add the oil and sprinkle over the flour. Stir or whisk continuously until the roux reaches a dark caramel or milk chocolate colour, a bit darker than peanut butter. It will take about 15 – 20 minutes. Don't let it burn or you will have to start over.
Add the onions and continue stirring continuously until soft. Add the green pepper, celery, garlic and okra. Sauté, stirring frequently for 10 – 15 minutes until the vegetables are soft and the okra slime has disappeared.
Add the tomato, 2 ½ cups of stock, mushrooms, beans, thyme, cayenne pepper and bay leaves. Bring to a boil then lower the heat to medium-low and simmer gently for 30 minutes.
If you like your gumbo a bit thinner and more soup-like, add as much of the remaining stock as you want. Turn off the heat and ladle a small amount of the gumbo into a small bowl and add the miso paste. Stir well to dissolve and add back to the saucepan. Mix well. Taste the gumbo and add salt to taste (depends on how salty your stock and miso are) and pepper.
Serve the gumbo with brown rice and sprinkled with some fresh parsley.
Originally posted 2019-01-20 23:09:04.

Originally posted 2019-01-20 23:09:04.