Vegan Salad Spring Rolls — Easy ingredients. Easy to prep. Easy to make. Heart Healthy. These salad springs rolls can be made in 5 minutes flat. Even if you don't have all your ingredients pre-prepped they are still crazy quick to make.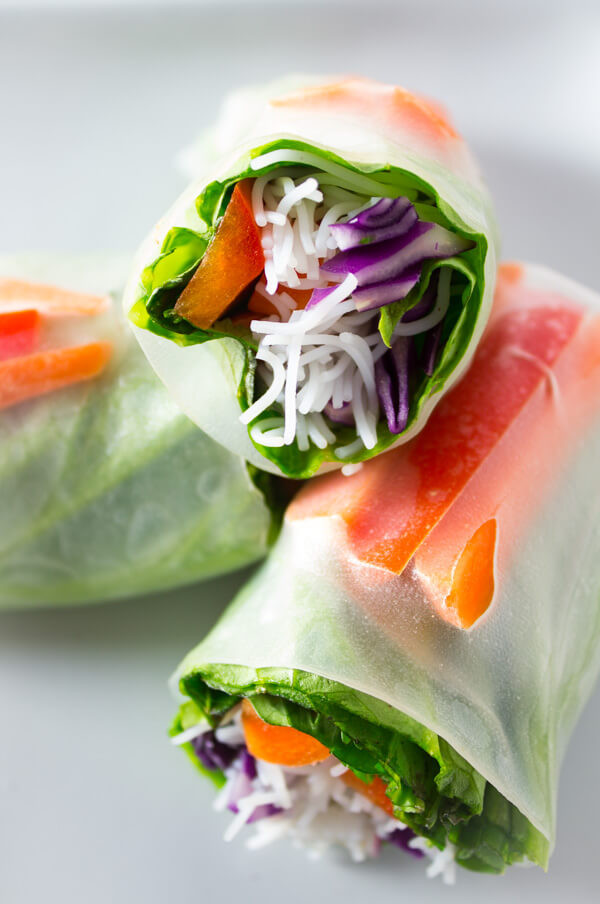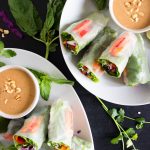 Ingredients
8 rice paper wrappers
8 lettuce leaves
1 medium red bell pepper, thinly sliced and cut into 1 inch pieces
2 medium carrots, thinly sliced and cut into 1 inch pieces
1 cup (approximately) red cabbage thinly sliced
a handful of fresh cilantro
a handful of fresh basil
3 oz. (approximately) rice vermicelli noodles, cooked (follow instructions on package)
peanut sauce for dipping
Instructions
Prep all of your vegetables and arrange them buffet style so that they are all ready to go. Feel free to add any additional vegetables that you enjoy. You can also include chicken, shrimp, steak, or tofu.
Begin by softening the rice paper, one at a time, in a large bowl filled with warm water for about 5 to 10 seconds each. If you're rice paper is breaking, it is most likely because it's been dipped in the water for too long.
Remove rice paper from water and lay on a flat surface.
…..
…..
Visit Vegan Salad Spring Rolls for full instructions