For the sake of mushrooms, this easy vegan mushroom gravy made from scratch is AMAZING, and a perfect match for these pillowy soft Mashed Potatoes that you hope to have whipped and you still have leftovers. 🙂 Together, it's the comforting food of the best!
Made from only 5 ingredients, without salt or pepper, this recipe of mushrooms and light sauce is rich and creamy. It does not contain dairy products, can be gluten-free and is virtually the best mushroom sauce ever!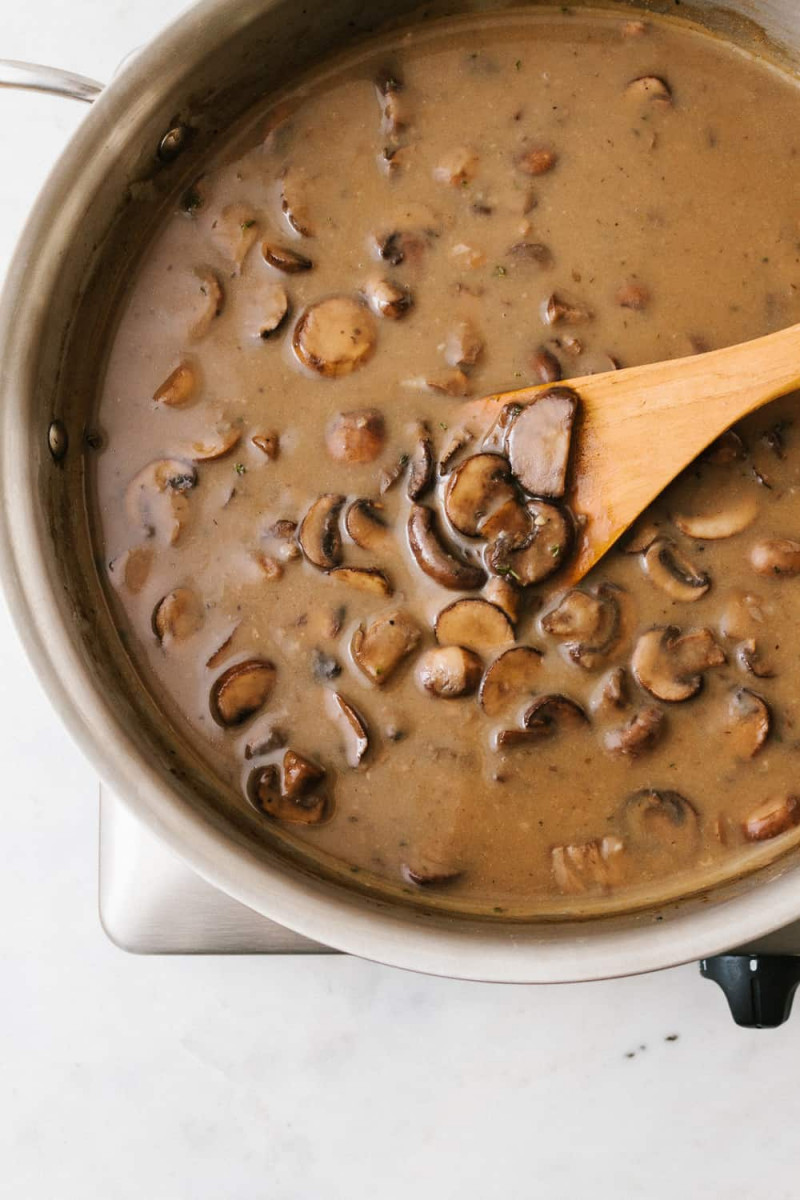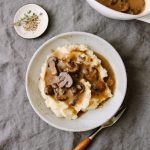 Ingredients
1/4 cup olive oil or non-dairy butter
1 (16 ounce) package sliced mushrooms (white or baby bellas)
1/4 cup all-purpose flour, or as needed
1 quart (4 cups) mushroom or vegetable broth
mineral salt & fresh ground black pepper, to taste
1/2 teaspoons fresh thyme leaves, or to taste (optional)
Instructions
Heat oil over medium heat, add mushrooms and season with a pinch of salt. Simmer mushrooms, stirring occasionally, until liquid is almost evaporated, about 15 minutes.

Add flour, continue cooking and stirring for about 3 – 5 minutes, at least until the flour has been absorbed and not white anymore. Add 1 cup of broth, stirring/whisking briskly until incorporated and liquid has thickened, there should be no flour lumps, about 5 minutes.

Slowly pour in the remaining broth and mix thoroughly. Season with black pepper and thyme. Simmer at a gentle boil over medium-low until thickened, about 20 minutes, stirring often. Gravy will thicken upon standing. Taste for flavor, adding more salt and pepper as needed.

Makes about 4 cups.
Originally posted 2019-01-20 13:22:11.
Notes
If you find the gravy isn't thickening up, mix 1 tablespoon oil with 1 heaping tablespoon flour, mix well until completely blended, add to simmering broth, stirring until dissolved, continue cooking until thickened. I used mushroom gravy when making this recipe which gave it a rich brown color, if using vegetable broth your gravy may be lighter in color. Make this gluten free by using gluten free flour.

Originally posted 2019-01-20 13:22:11.