These Vegan Double Chocolate Sunflower Brownies are really the best brownies I've ever had. They embody everything a brownie should have, namely dense, soft, hard and very chocolatey. Do it for your family and friends, then tell them they are vegan, gluten free and oil free. They will not believe you!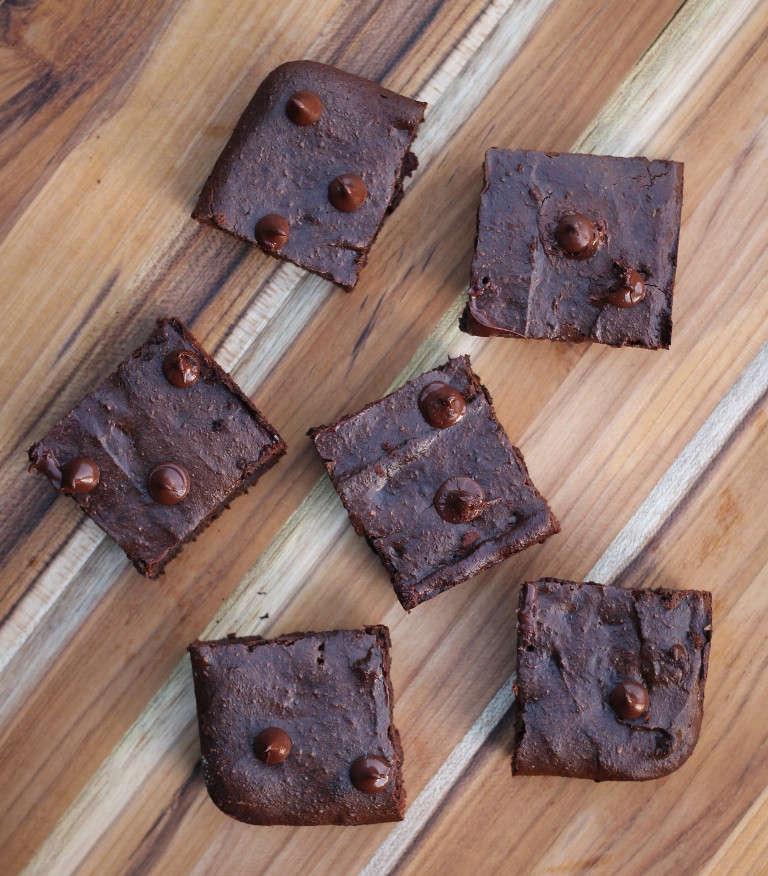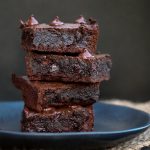 Ingredients
1 cup (140g) raw, unsalted sunflower kernels (Do NOT use roasted or you will get an aftertaste!)
1/4 cup + 2 tablespoons unsweetened cocoa powder (36 g)
1 teaspoon baking powder
1/4 teaspoon (2g) fine sea salt
1/2 cup (160g) pure maple syrup
2 teaspoons (10g) vanilla extract
1/4 cup + 2 tablespoons (90g) water
3 tablespoons (30g) brown rice flour (Or sub with 3 tablespoons all-purpose flour. Update: I no longer use the Oriya protein powder and only use the brown rice flour. I can't vouch for results with any other protein powders.)
2 tablespoons (16g) oat flour (or sub with 1 tablespoon all-purpose flour if you can't tolerate oats)
1/4 heaping cup (60g) + extra on top dairy-free chocolate chips
NOTE: This makes a small amount (in a loaf pan), so if you want a larger batch, double the recipe and use an 8x8 pan. If you want to use all regular all-purpose flour, then leave out the oat flour and brown rice flour and just use 1/4 cup (32g) all-purpose flour in place of both. The texture was slightly more cakey/puffy with the all-purpose flour. I preferred the more dense/fudgy texture using the gluten-free flours, but both are delicious.
Instructions
Preheat an oven to 350 degrees (Fahrenheit, 177 Celsius) and spray WELL a 9X5 loaf pan with nonstick spray. I tried some with parchment paper and don't like how they stuck to the paper and were more fragile. I much prefer spraying the pan versus paper because they bake up more firmly this way.
Next, add just the sunflower kernels to a food processor and process for 30 seconds to 1 minute until a flour is formed. Next, add the cocoa powder (scoop with your cup and then level off), baking powder and salt and process again until just mixed.
Add the syrup, vanilla and water and process for 3 minutes or so until completely smooth. I literally set my timer. Scrape the sides down and process for a few more seconds. It should be COMPLETELY SMOOTH and no chunks of sunflower kernels left before adding the flours next. If it's not all mixed and smooth, GUESS WHAT, you will end up with dry crumbly brownies since the fat from the sunflower kernels is what makes these so fudgy!
Add the brown rice flour and oat flour (or all-purpose flour) and process again until it is all blended and thick like a smooth nut-butter consistency. Add the batter to a bowl and make sure to scrape out all of that chocolatey goodness. Stir in the chocolate chips.
Pour the batter into the prepared pan and spread out evenly to the corners. Place extra chocolate chips on top. You know you want to.
Bake for 35-40 minutes depending on your oven. I would suggest checking yours at 35 minutes. I took mine out closer to 40 minutes. Here is the thing, these will not look done based on the top of the brownies, but will form that shiny firm top AFTER they are out of the oven cooling. Do not check for a clean toothpick either, it will not come out clean. It shouldn't be soaking wet batter, but more of a sticky batter on the toothpick. You are looking for the edges to be firm and have slightly pulled away from the pan, that is when they are ready. If you are doing a version with all of all-purpose flour in place of the oat and brown rice flours, then they were done at 35 minutes and just slightly more cakey/puffy.
Remove them and you must let them cool for 45 minutes to an hour, with no exception. They will fall apart if you try to remove them earlier. I let mine cool an hour and then carefully cut them with a smooth sharp knife. Gently remove the first brownie and then the others by sliding a spatula underneath. Then they will firm up considerably even more as they sit on a plate. They will be firm, moist and super fudgy. YUM. Store them at room temperature wrapped tightly in foil.
Notes
Nutrition per brownie: 229 calories | 12.1g fat | 5.3g protein | 29.2g carbs | 4.3g fiber | 16.1g sugar | 78mg sodium