Quinoa and tuna are a snappy pair. Wait, did I just say Snappy? [Ugh!]
They work so well together: an excellent mix of flavors and textures.
And then fresh mint. I know that many of you like to tweak my recipes by adding things you're probably asking or changing one or two ingredients. but believe me in this case. Fresh mint is necessary without her falling asleep a little.
This salad requires acid. Lemon juice and lemon zest are therefore not negotiable.
From a nutritional point of view, this dish is amazing. It's full of protein, gluten free and delicious. A salad with a meal. Delicious, hearty and healthy at the same time.
So we appreciate our mercury levels and dive in!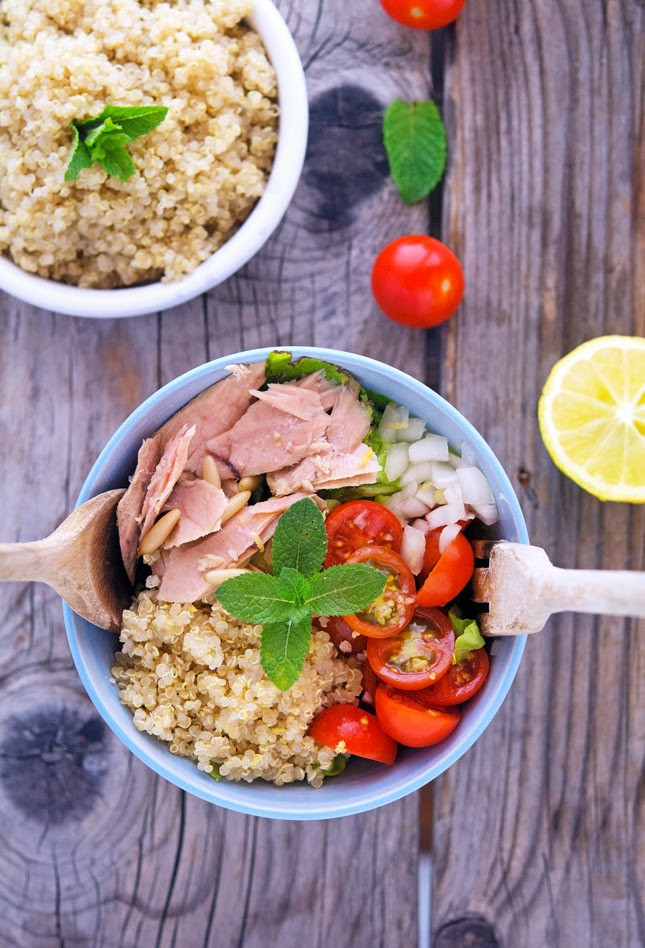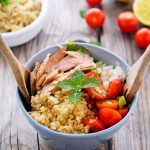 Ingredients
Salad
1 cup / 6 oz / 170 gr quinoa
2 cups / 500 ml water
2 (5 oz / 140 gr) cans tuna in water, drained (I used Wild Planet wild albacore tuna)
1 cup / 5.3 oz / 150 gr cherry tomatoes, halved
½ red onion, thinly sliced
4 cups / 7 oz / 200 gr mesclun salad mix
2 large handfuls mint leaves, finely chopped
3 tablespoons pine nuts, toasted
Dressing
Juice and zest of one lemon
3 tablespoons olive oil
Pinch of red pepper flakes (optional)
Instructions
Place quinoa into a fine-mesh strainer. Rinse thoroughly with cool water for about 2 minutes. Rub and swish the quinoa with your hand while rinsing. Drain.
Place quinoa and water in a small saucepan and season with a pinch of salt. Bring to a boil, reduce to a gentle simmer, and cover. Cook until all water is absorbed, about 16 minutes. Transfer to a large bowl, fluff with a fork and let cool.
To make the dressing, combine olive oil, lemon juice, lemon zest, and red pepper flakes (if using) in a small bowl.
To make the salad, add the greens in a large bowl and toss them with a sprinkle of salt and pepper.
Add tuna, quinoa, tomatoes, onion, and mint. Toss through dressing and season. Scatter over pine nuts and serve!
Originally posted 2019-01-20 03:11:25.
Notes
Nutrition facts One serving yields 471 calories, 27 grams of fat, 34 grams of carbs, and 24 grams of protein.

Originally posted 2019-01-20 03:11:25.