Raw Red Velvet Fudge is absolutely sweet with notes of chocolate, but no sugar, low carb, keto, raw and vegan! It melts in the mouth. I can not stop, I swear. I am addicted to super creamy textures, I fell in love with incredible flavors and I am really excited about the beautiful colors. My fridge and freezer are filled with green, blue and red cubes. I live pretty well!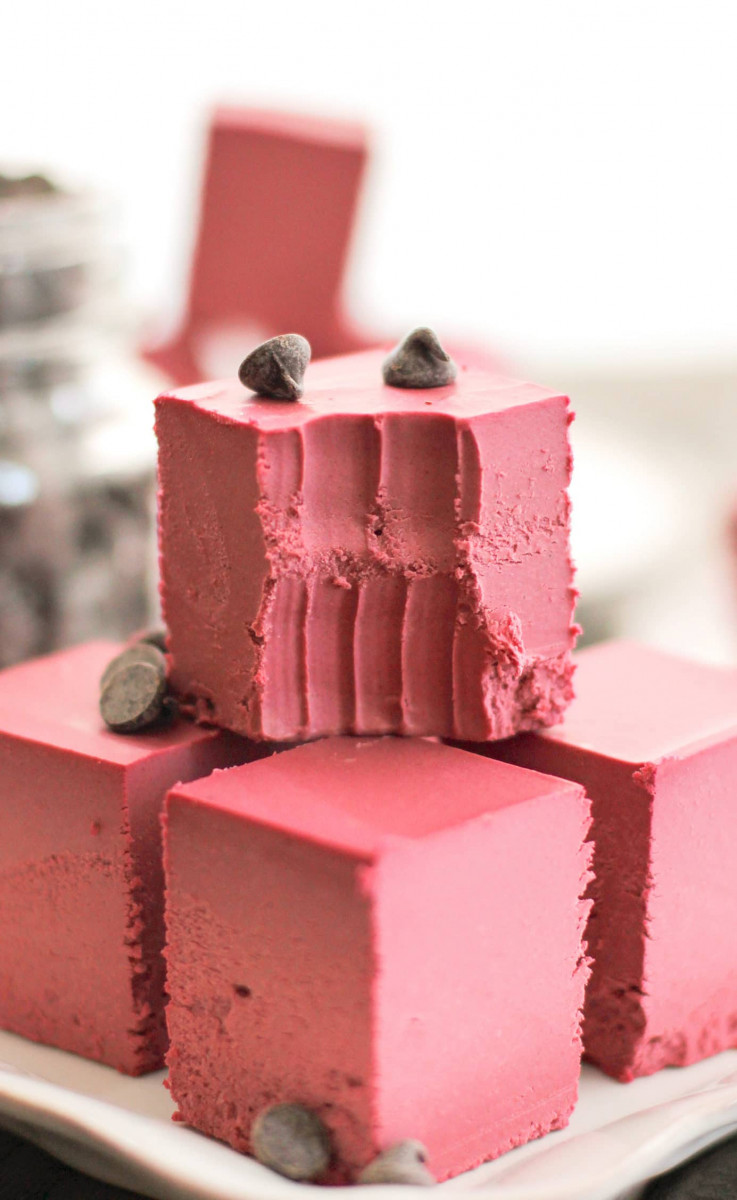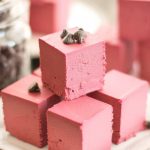 Ingredients
12

oz

Raw Cashew Pieces

1½

cups

Unsweetened Vanilla Almond Milk

246g

(1 cup)

Roasted Beet Puree

**

4

tsp

Vanilla Extract

1

tsp

Liquid Stevia Extract

¼

tsp

Pink Himalayan Salt

224g

(1 cup)

Organic Raw Cacao Butter

(melted)

84g

(4 scoops)

Vanilla Brown Rice Protein Powder

20g

(¼ cup)

Unsweetened Natural Cocoa Powder
Instructions
Line an 8×8″ brownie pan with parchment paper both ways.

In a sealable container, add the cashews, almond milk and beet puree.  Cover with a lid and refrigerate overnight.

The next day, dump the entire cashew/milk/beet mixture into a high-speed blender (I used my Vitamix).  Add the vanilla extract, stevia extract and salt.  Blend on high speed until completely smooth.

Pour in the melted cacao butter and blend again.

Add the protein powder and cocoa powder and blend one last time.

Scoop the mixture into the prepared pan and spread it out.  Tap the pan on the counter a few times to help get rid of air bubbles.  Use an offset spatula if you want to spread out a perfectly flat top!  Cover the pan and refrigerate overnight.

Slice, serve, and enjoy!
Notes
Nutrition Facts. Amount Per Serving (1 piece) : Calories 120 Calories | Total Fat 10.5g | Saturated Fat 4.5g | Sodium 30mg | Total Carbohydrates 4g | Dietary Fiber 0.5g | Sugars 1g | Protein 4g