Morocco is a country in North Africa bordering the North Atlantic and the Mediterranean. Spices are often used in Moroccan cuisine. Solid meat such as salmon or basafish is used for this dish. The Moroccan Baked Fish is a popular dish prepared in Morocco and the Mediterranean. The fish is cooked on a bed of spices of Moroccan sauce made from coriander leaves or parsley, onions, garlic, olives and various spices. This dish is served with a loaf called challah or Moroccan bread. Some people even serve it with vegetables like potatoes or asparagus and white rice.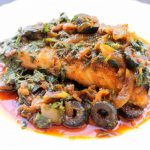 Ingredients
For Marination
200 grams Basa fish , salmon or any white firm fleshed fish (1 fillet)
1 teaspoon Black pepper powder
1/2 teaspoon Salt
For Moroccan Spiced Sauce
1 teaspoon Cumin (Jeera) powder
2 teaspoon Paprika powder
1 teaspoon Coriander (Dhania) Powder
4 cloves Garlic , crushed
4 sprig Coriander (Dhania) Leaves, finely chopped
2 tablespoons Lemon juice
1 teaspoon Salt
3/4 cup Olive Oil
2 Onions , julienned
1/4 teaspoon Coriander (Dhania) Seeds
Instructions
To begin making the Moroccan Baked Fish recipe, wash the fish fillet and marinate by applying salt and black pepper powder and keep aside for 30 Minutes in the fridge.
Let's make the Moroccan sauce. Take a mixing bowl and add the cumin powder, coriander powder and paprika. Mix and keep aside.
Take another mixing bowl, add the chopped coriander leaves, 3/4th of the mixed spiced powders from first mixing bowl, lemon juice, olive oil, garlic paste and 1 teaspoon salt and mix well.
Pour 3/4th of this sauce over the fish fillet and apply it on both sides of the fish. (Reserve the remaining 1/4 to pour on the fish while serving). Keep it aside for 1 hour in the fridge.
Let's make the roasted onion. Heat a kadai and add butter. After butter melts, add olive oil.
Now add onion and saute till onion turns pinkish. Add the remaining spiced powders, turmeric powder and salt to taste and mix well. Now add olives and mix. Let this mixture cool.
Pre-heat the oven at 200 C for 5 Minutes. Spread the roasted onions in a baking dish. Arrange the marinated fish fillets over the roasted onions.Bake it for 25 Minutes at 200 C.
While serving, take a plate and place a piece of baked fish. Garnish it with reserved coriander/cilantro sauce.
Serve Moroccan Baked Fish on its own with a glass of wine and some Bruschetta.
Originally posted 2019-01-20 00:19:43.

Originally posted 2019-01-20 00:19:43.